Top Seafood Restaurants in NYC -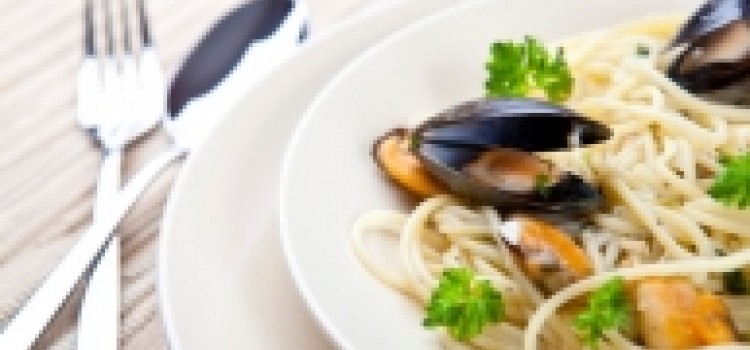 The Manhattan Hotel is located near some of the best New York Restaurants. During your next stay at our NYC Hotel, indulge in a seafood feast at one of these popular Restaurants in NYC that specialize in amazing seafood dishes.
One of the best reasons to book a Guest Room at an NYC Hotel like The Manhattan Hotel is so you'll be close to some of the best New York Restaurants. Whatever you crave you can find it here, and the options seem endless. Here are some of the best Restaurants in NYC to help satisfy a seafood craving. While this list is not a complete listing of New York's best seafood dining spots; it is a great place to start.
Blue Water Grill
Where: 31 Union Square West at 16th Street New York, NY 10003
Call: 212-675-9500
This former bank building is now home to this popular New York Restaurant. You'll be perfectly situated to do some people watching as you feast on entrees such as Crispy Skin Scottish Salmon or Spicy Shrimp Tacos. Be sure to save room for dessert. The Salted Caramel Cake and Pumpkin Crème Brulee are two of the top choices.
BLT Fish
Where: 21 West 17th Street New York, NY 10011
Call: 212-691-8888
The bright, cheery dining room at BLT Fish is a perfect escape from a chilly New York street. You'll feel refreshed as you step out of the cold and begin to peruse the menu which includes choices such as Crispy Red Snapper and Hard Shell Lobster. Finish off your meal with a Strawberry Almond Tart with mint ice cream.
Crave Fishbar
Where: 945 2nd Avenue New York, NY 10022
Call: 646-895-9585
Crave Fishbar is a perfect choice to satisfy a seafood craving, and it's also a perfect choice to satisfy a sweet tooth. The dessert menu is nearly as impressive as their dinner menu. Choose from Mascarpone Cheesecake with poached plum and rosemary oil or Flourless Chocolate Marcona Almond Cake with rum toffee sauce and banana ice cream. Don't worry – the seafood here is fabulous as well! Try the Grilled Diver Sea Scallops, Florida Snapper or Grilled Organic Salmon.
Sea Fire Grill
Where: 158 East 48th Street New York, NY 10017
Call: 212-935-3785
The seafood served at this New York Restaurant is locally sourced, so it is wonderfully fresh when it is brought to your table. Feast on Alaskan King Crab Legs, Wild Striped Bass or, for the non-seafood lovers, a delectable Rack of Colorado Lamb. The Mocha Hazelnut Torte or Tiramisu are two of the many dessert options.
Lobster Joint
Where: 201 Houston Street Manhattan, NY 10002
Call: 646-896-1110
The Lobster Joint is a great choice when you want fabulous seafood served in a more casual atmosphere. Try the New England Lobster Roll, Sauteed Pollock or Lobster Mac N Cheese. Yummy sides include Portobello caps, boiled red potatoes and crunchy house-made chips.
The knowledgeable Concierge at The Manhattan Hotel can offer further recommendations about Restaurants in NYC. Our NYC Hotel also has special offers to welcome guests who come to enjoy New York City's fabulous dining, Attractions and Events. View Special Offer details >
About The Manhattan Hotel – An NYC Hotel
One of the best features of The Manhattan Hotel at Times Square is our incomparable location – literally in the center of everywhere you want to be when you visit New York. The streets around our Times Square Hotel are alive with the boisterous energy New York is famous for, with each step introducing you to your next fascinating encounter.
While our enviable New York Hotel Location tops the list of preferred reasons to stay at The Manhattan Hotel – An NYC Hotel, we didn't stop there in our efforts to make your New York stay with us as comfortable and convenient as can be.
With an ideal location our guests are just steps from the Broadway Theater District, Empire State Building, and neighborhoods of Greenwich Village and SoHo to Central Park, Rockefeller Center, and Madison Avenue.