New York Visitor Guide
NYC's Best

Dining

Ready to take a bite out of the Big Apple? From steakhouses and sidewalk cafes, New York City offers an astounding array of restaurants in every price range and culinary style. Of course, no trip is complete without a slice of New York pizza, a cup of Manhattan clam chowder or a fresh bagel topped with cream cheese and lox. Looking for a few more ideas? Read on.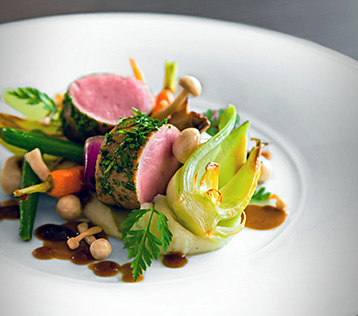 Chez Josephine
Chez Josephine exudes theatrical panache in a seductive setting, complete with blue tin ceiling, red velvet walls and a cavalcade of chandeliers that light up vintage portraits of La Baker. Enjoy delectable dinner and brunch fare at this memorable NYC restaurant.
La Masseria
In the Puglia Region of Italy the masseria is the heart of any large working farm. Inspiration for La Masseria comes from these ancient farmhouses, where classic dishes utilized the freshest natural ingredients harvested from land and sea.
Sardi's
In the heart of New York's Theater District, Sardi's has been the toast of Broadway for 90 years. Their continental cuisine, traditional yet innovative, is celebrated for its creativity and tasteful presentation.
Del Frisco's Double Eagle Steak House
Del Frisco's Double Eagle Steak House planted its roots in Dallas more than 20 years ago. They embody the rich tradition of fine American steak houses, impeccable chef-driven cuisine, an extensive award-winning wine list and unparalleled hospitality.
Bobby Van's Steakhouse
Since 1969, this original outpost of the seven-strong Bobby Van mini-empire has been serving overpriced surf and turf to well-heeled Hamptons regulars who value the comfort of consistency over the flash of surprise.
21 Club
For a taste of an era now nearly forgotten, little comes closer than a classic cocktail served by one of these gracious tuxedoed headwaiters in the Bar Room where old toy cars and airplanes drip from the ceiling like so many memories.
Aureole
Charlie Palmer's unabashed, energetic signature Progressive American cuisine first took root in the original townhouse location of Aureole, where the chef made an early commitment to farm over factory food.
Carmine's
Restaurateur Artie Cutler created Carmine's with one goal in mind: to open a restaurant that would serve every meal in the style of an Italian American wedding feast, featuring extra large portions, designed for sharing.
Victor's Café
At Victor's Café well-made minty mojitos and the house specialty, lechon asado: delectable roast suckling pig marinated in fresh lime juice and garlic, all sound seductively delicious.
Shake Shack
Craving a burger in the great outdoors? Danny Meyer's hip and perennially popular burger joint is in nearby Madison Park. What could be better than a juicy burger and rich shake in the park on a beautiful New York day?
Junior's
Opened in 2006, this spectacular restaurant features outdoor dining on their patio during the summer, a full service bar, and beautiful new dining room. We like to call it a taste of Brooklyn in the heart of Manhattan.
Le Bernardin
Le Bernardin, awarded the Michelin Guide's coveted 3-stars as well as The New York Times' highest rating of 4-stars, has maintained its status of excellence for 20 years and its international acclaim as one of the world's top seafood restaurants.
Bar Americain
Favorite NYC restaurant, Bar Americain, celebrates the foods of America with a healthy dose of the bold flavors Bobby Flay is most known for. Bobby combines his American menu with the energetic fast pace of the time-honored European brasserie.