New York Visitor Guide
Stylish Big City

Shopping

Often referred to as the "Gold Coast" of retail, Madison Ave. in NYC is home to some of the most extravagant shopping in the entire world. Passing through Midtown, the Upper East Side, and Harlem, Madison Ave. includes designer name boutiques, jewelry stores, beauty salons and spas. Fifth Avenues' higher profile shops are also nearby to satisfy all your luxury retail therapy needs.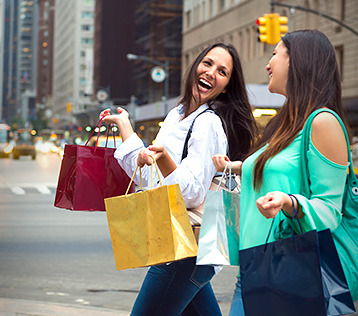 Saks Fifth Avenue
Occupying an entire city block directly across from Rockefeller Center, Saks Fifth Avenue has been one of the city's preeminent high-end department stores since it opened in 1924. The ten-floor luxury behemoth buzzes with a well-heeled hum at the ground level, where cosmetics salespeople stand at attention and perfume spritzers beckon at every turn.
Times Square
Everything about Times Square is big, the crowds, the jumbo screens, the stores. Within this entertainment epicenter, you'll find flagship favorites like Forever 21, American Eagle, MAC, Sephora, Toys R Us and Hershey's Times Square - just to name a few!
Toys R Us
The company's international flagship store – aptly known as The World's Greatest Toy Store® – boasts an astounding 110,000 square feet filled with everything from toys to trains to video games and offers unique product displays, convenient guest services and exciting features and attractions.
Barneys
Displaying cult designers like Proenza Schouler alongside mainstays like Louis Vuitton and Chanel, the nine-floor flagship Barney store on Madison Avenue showcases all of its wares with style, whimsy and a strong brand identity.
American Girl
Located in the heart of Manhattan, New York City's American Girl store features an specialty shops, an American Girl Cafe, even a doll hair studio and doll hospital for dolls injured in the line of duty.
Macy's Herald Square
As the world's largest department store and a registered New York City landmark, Macy's flagship store in Herald Square is more shopping empire than mere retailer. Spanning a full city block, it features nine floors of must-have merchandise ranging from housewares to high fashion.
Fifth Avenue
Located in the heart of Manhattan, the best Fifth Avenue shopping takes place between 39th and 60th streets, where you'll find NYC flagship stores selling everything from designer fashions to home accessories and NYC souvenirs.
Disney Store
From classic to contemporary Disney characters, the Disney Store in Times Square offers the latest in official Disney merchandise, including Disney toys, clothes and Disney collectibles featuring everyone's favorite characters including Mickey Mouse, the Disney Princesses, Fairies, Buzz Lightyear, Pooh and more.
Tiffany's
Long before Audrey Hepburn gazed longingly into its gorgeous windows, Tiffany's sold its baubles in its signature blue boxes to the world's elite, including President Abraham Lincoln. Today, the iconic jewelry emporium continues to attract the rich, famous and powerful, as well as tourists eager to gawk and spend, too.
Apple Store
It would be hard to miss the stunningly beautiful subterranean Apple store at 767 Fifth Avenue. A modern marvel, the soaring, 32-foot-tall glass cube beckons a tech-savvy generation of iPhone, iPad and Macbook users.
American Eagle Outfitters
At over 25,000 square feet, American Eagle's Times Square store is a sight to behold, both inside and out. The building's facade features massive LED screens blasting videos eighteen hours a day (including images of customers who pose at the store's miniature photo studio) while indoors, four levels of AE goods await.