Guggenheim Museum - New York Attractions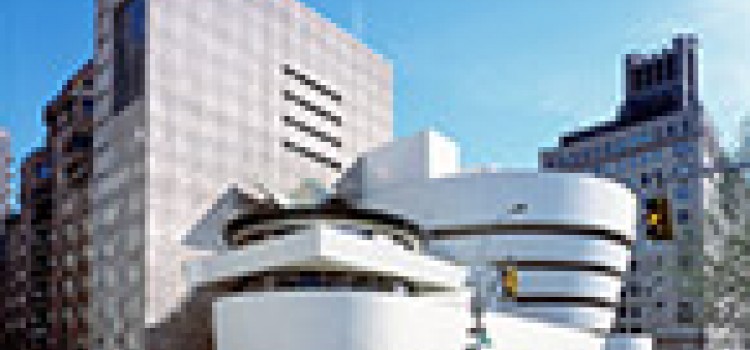 Location: 1071 Fifth Ave., New York, NY 10128
Contact: 212.423.3500
Housed in one of the most iconic buildings in New York, the Solomon R. Guggenheim Museum's collection is filled with prized pieces, including works from Pablo Picasso, Wassily Kandinsky and Joan Miró. The Guggenheim always presents interesting and innovative exhibitions, and the museum's layout is like no other, as visitors experience the artwork along a huge ramp that spirals up around the entire interior of the cylindrical building.
When Frank Lloyd Wright designed an inverted ziggurat and placed it across from Central Park in 1959, he threw the museum and architectural world into disarray. Instead of cube-shaped galleries designed to be entered and exited, Wright designed a space as exciting as the art it would contain. Visitors, ideally, shoot to the top of the sunlit glass dome by elevator then saunter down six sloping ramps to view art on curved walls. The interior is designed like a nautilus shell so you can see art from multiple levels simultaneously. And the distance and height from which you see the art, ideally, changes the way you see it.
There are, still, annexes off to the side, holding the permanent collection of late 19th and early 20th century painters, from swirly, turbulent Van Goghs and jazzy Kandinskys to exuberant Picassos and Braques. But the nucleus of the Guggenheim is the rotunda itself. The organic, spiral shape is repeated and countered by the contours of the art and sculpture on view, the columns on which the rotunda hinges, and even the gold drinking fountains with their half-circles of water and round repositories.
Since 1988, director Thomas Krens has irritated and enlivened the art world with showy, populist exhibits from motorcycles to Mapplethorpe, and from video artists Bill Viola and Nam June Paik to the interdisciplinary conceptualist Matthew Barney. But traditional modernists need not avoid this dynamic, tilt-and-twist space—there's still plenty of art by well-known types, like Klee, Brancusi, and Matisse, and round-ups of 20th century artists or the Russian avant-garde.