Peter and the Starcatcher - Broadway Shows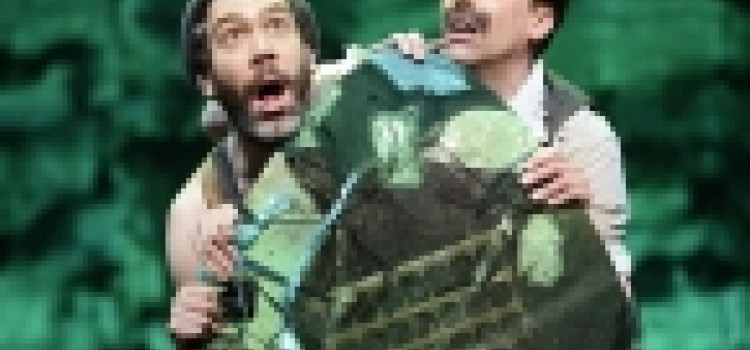 Theatre: BROOKS ATKINSON THEATRE
Location: 256 West 47th Street New York, NY 10036
A wildly theatrical, hilarious and innovative retelling of how a miserable orphan came to be The Boy Who Never Grew Up, Peter and the Starcatcher upends the century-old legend of Peter Pan.
Based on the best-selling Disney-Hyperion novel, the play features a dozen actors portraying more than 100 unforgettable characters and uses their enormous talent, ingenious stagecraft and the limitless possibilities of imagination. Don't miss this epic origin story of one of popular culture's most enduring and beloved characters and discover the Neverland you never knew.
Peter and the Starcatcher provides a humorous and fantastical backstory for the beloved character of Peter Pan and his arch-nemesis Captain Hook. In this wickedly imaginative play, we meet a poor orphaned child on the high seas simply called Boy because, in the absence of a mother and a father, he was never given a name. His sad and lonely world is turned upside down when he meets Molly. The daughter of famous Starcatcher Lord Astor, our heroine is on a mission to save the world and protect a treasure trunk filled with magical star stuff from getting into the hands of evil and greedy pirate Black Stache. As they travel aboard the Neverland ship headed for a faraway land, Molly and Boy learn about love, friendship and forge an unbreakable bond.
Like the legend of Peter Pan himself, Peter and the Starcatcher inspires the audience to stretch the limits of their imagination with inventive use of props and lighting. Instead of an elaborate set, scattered about the stage are the sort of knickknacks one might find in a junkyard. With just a ladder, rope, three treasure chests, two model ships and other clever materials, a company of 12 actors embodies more than 100 unforgettable characters and transport theatergoers to the land of make believe. Although the play is not considered a musical, Molly, Boy, Black Stache and the rest of the colorful characters randomly burst into songs composed by Wayne Barker, creating a show that is whimsical and enchanting.