Bar Americain - New York Dining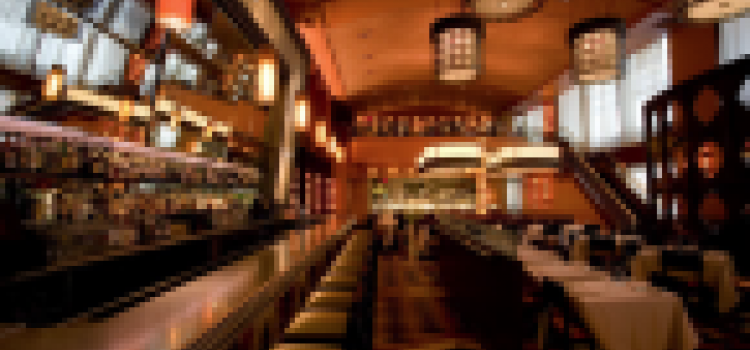 Location:152 W. 52nd Street, New York, NY 10019
Contact: 212.265.9700
Favorite NYC Restaurants and New York Dining like Bar Americain celebrates the foods of America with a healthy dose of the bold flavors Bobby Flay is most known for.
With a menu that ranges from Shrimp-Tomatillo, Crab-Coconut and Lobster-Avocado Shellfish Cocktails to Smoked Chicken with Hatch Green Chile Spoonbread and Black Pepper Vinegar, Bobby combines his American menu with the energetic fast pace of the time-honored European brasserie.
The 200-seat restaurant, designed by Rockwell Group, features traditional brasserie elements while mixing "Hollywood" banquettes in the dining room. Bar Americain's mezzanine provides an ideal vantage point for people watching with a slight respite from the bustle of the main floor below.
Bobby Flay's culinary versatility is evident in the multiple talents he brings to the field: as a critically-acclaimed chef/restaurateur, award-winning cookbook author and television personality. However his first priority always remains with his restaurants.
Flay discovered his culinary identity at the age of 17, working as a cook at the famed theatre district haunt, Joe Allen's. This eventually led Flay to study at The French Culinary Institute where he earned the first "Outstanding Graduate Award" in 1993.
After working at several NYC restaurants, Flay developed his own style of American southwestern food incorporating ingredients such as chiles, avocados, and beans. Flay took his innovative cuisine and opened Mesa Grill, his first restaurant in 1991. This earned him widespread acclaim, including the "Best Restaurant 1992" award for Mesa Grill by New York Magazine's Gael Greene.
There are many New York Hotels to choose from when you visit New York - choose the Manhattan Hotel - A New York Hotel.
Bolo Restaurant & Bar opened in November 1993 in the Flatiron district. That same year, Flay was voted the James Beard Foundation's Rising Star Chef of the Year 1993, an award that honors the country's most accomplished chef under the age of 30.
In 2004, Flay opened another Mesa Grill at Caesars Palace in Las Vegas. In April 2005, Bar Americain opened featuring Flay's regional American cuisine. In June 2006, Flay opened his first steakhouse, Bobby Flay Steak, at the Borgata Hotel Casino & Spa in Atlantic City. In March 2007, Flay opened his 6th restaurant, Mesa Grill Bahamas, at The Cove Atlantis. In November 2009, Bobby opened his second Bar Americain location at the Mohegan Sun in Uncasville, CT.
In addition to his restaurants, Flay shares his knowledge and enthusiasm for food through his cookbooks and his many national cooking shows on the Food Network, Cooking Channel and NBC.
Flay possesses a remarkable ability to create and retain the individual character of each of his projects, insisting on uniqueness and integrity. He works tirelessly to challenge diners' expectations and influence the way Americans view and taste food - making it bold, zesty and always fun.
About The Manhattan at Times Square Hotel – A New York Hotel
One of the best features of The Manhattan Hotel at Times Square is our incomparable location – literally in the center of everywhere you want to be when you visit New York. Our New York Hotelis just 2 blocks from Rockefeller Center, 4 blocks from MoMA - the premier New York Museum, has Central Park to the left, is steps from exciting Times Square and the Broadway Theater District to the right. We are close to countless New York Attractions, New York Activities, New York Restaurants and New York Shopping, and close to nearly every New York Subway line for direct access to all areas of Manhattan and New York City.
With a location that has our guests just steps from exciting Times Square, the Broadway Theater District, Empire State Building, and neighborhoods of Greenwich Village and SoHo to Central Park, Rockefeller Center, and Madison Avenue.
659 well-appointed, non-smoking Guest Rooms and Suites are available on 22 floors and offer everything a Business or Leisure Guest will need for a comfortable stay in the City.