Disney Store - New York Shopping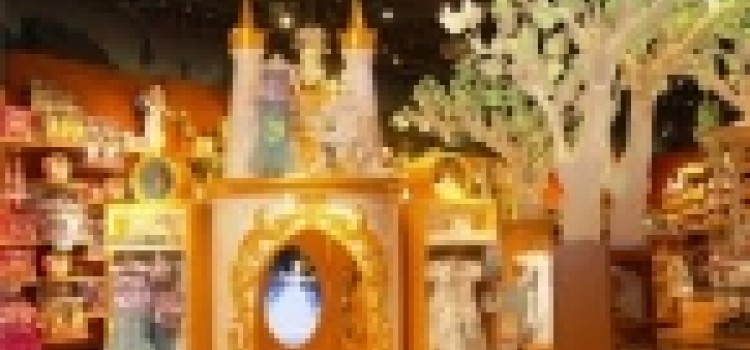 The purveyor of all things Disney offers the widest variety of Disney characters and themes, both classic and contemporary.
When you approach The Disney Store, the first thing you see is a giant video screen that dominates the outside of the store. Smaller screens are interspersed on the windows below. When guests enter, they will find that the store is divided into two floors.
On the Ground Level, guests will find New York City-themed merchandise; eighty percent of it is specific to the Times Square store (as opposed to Theme Park merchandise) including apparel, pins, Minnie Statue of Liberty items, and NYC-themed Vinylmations. There is also a nice selection of other traditional Disney merchandise ranging from regular pins and Vinylmations to food, apparel, and theatrical items. There are quite a bit of seasonal items included.
Just like New York City, the Times Square Disney Store has its own landmarks. The three Ground Floor landmarks are: a series of wooden replicas of New York City skyscrapers, a giant swing set twirling overhead, and in the back is a five-foot "Hey, Taxi!" Vinylmation. On the walls are oversized line drawings of classic and contemporary Disney characters.
Imagination Park, which caters to kids from zero to twelve years of age, aims to be a "magical destination giving a child the best 30 minutes of their day." This is achieved by creating a destination, engaging kids in a story, and designing every detail. IP is divided into sections. They include: Marvel (Times Square is the first store to have this), RIDEMAKERZ, a gazebo that houses the Disney Store Theatre and activity center, Mickey, Princesses, Fairies, Toy Story, Minnie, Disney Babies, and Plush characters. There are also special sections to create a little more synergy between other Disney divisions and the store. Currently Tron and Tangled represent this section. However, the "weenie" here is the soaring twenty-foot Disney Princess Castle façade at the back of the store. Going through the front archway, the princess section is graced by a giant crystal chandelier hanging above and two magic mirrors. Pick up any princess item and wave it in front of the mirror and the princess that object represents will appear.
Overall, the store in beautiful and even though it is geared towards children, there is enough in the store to even give adults the best 30 minutes of their day!