FAO Schwarz - New York Shopping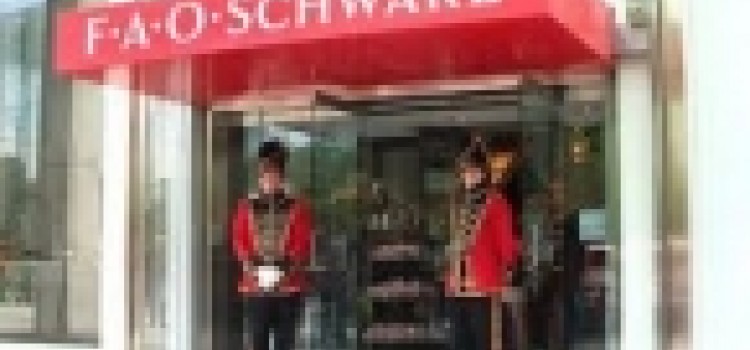 For nearly 150 years, FAO Schwarz has enchanted children and adults alike with its unequaled collection of toys and other fine children's products. The world-famous FAO Schwarz Fifth Avenue store is one of the most renowned stores in the world.
It is a favorite destination for New Yorkers, as well as international and domestic tourists who line up daily to see the store's assortment of toys, gifts and collectibles unmatched anywhere in the world.
The store features a breathtaking Grand Hall adorned with more than 20,000 computer-controlled colored lights, a giant dance-on piano keyboard and "FAO Schweetz," a classic New York candy shop that offers hundreds of scrumptious confections. FAO Schwarz was founded by Frederick August Otto Schwarz, who opened his first store in Baltimore in 1862 and relocated to lower Manhattan in 1870. The New York flagship store moved to its current location in 1986.
FAO Schwarz is not for the timid—or for the time-starved. Only shoppers with nerves of steel or bitter childhood memories will be able to zip and out in five minutes; for all the rest, it's a place to linger, imagine, dream, and finger all the cool stuff on offer.
Even professionally jaded, grown-up New Yorkers stare in amazement at the store's gigantic, unparalleled collection: Deluxe toys and games galore, not to mention the enormous Barbie section, LEGO mother lode, and copious dress-up and pretend-play areas. The store tends to balance trends with classics (and quality). High-end buyers won't be disappointed: Giant, nearly life-size Steiff plush animals retail in the hundreds-to-thousands, and there's always something like the $50,000 child-size Ferrari with leather interior that travels 15 miles per hour.
Kids will enjoy the do-it-yourself departments: At the Madame Alexander Doll Factory, for example, kids can design their own 10-inch doll.