THE MANHATTAN HOTEL OVERVIEW | HOTEL IN NEW YORK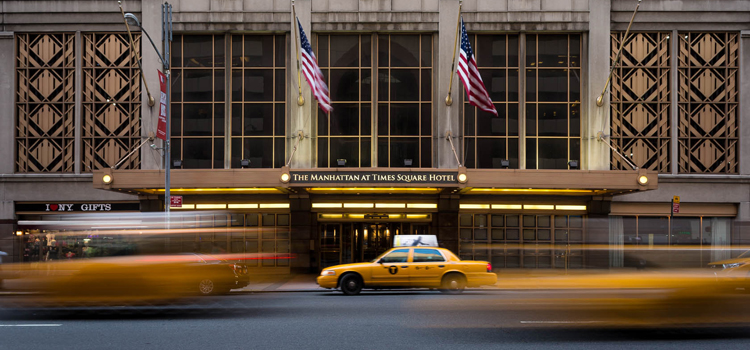 Inside The Manhattan At Times Square, NY
The Manhattan - A Times Square Hotel pairs ideal New York City accommodations with a coveted Times Square location. Close to dozens of New York activities and attractions, restaurants and things to do in New York, you'll be awed by the hustle and bustle of the Times Square streets that surround our hotel.
The streets around our Hotel in New York are alive with the boisterous energy New York is famous for, with each step introducing you to your next fascinating encounter.
While our enviable New York Hotel location tops the list of preferred reasons to stay at The Manhattan Hotel at Times Square, we didn't stop there in our quest to make your New York stay with us as comfortable and convenient as it can be.
Seasoned New York travelers and first-timers agree that one of the best ways to maximize your New York travel budget, minimize your travel time and get to see as much as possible, is to choose a New York hotel that puts you in the heart of the action, while providing the convenience, guest service and amenities that allow you to thoroughly relax and refresh. The Manhattan at Times Square Hotel does all this and more.
The Manhattan At Times Square Hotel Does All This And More.
Discover why our New York hotel is an ideal choice for your next NYC business or leisure visit to New York.
Ideal Times Square Hotel Location
One of the best features of The Manhattan Hotel at Times Square is our incomparable location – literally in the center of everywhere you want to be when you visit New York City. The Manhattan Hotel at Times Square is just two blocks from Rockefeller Center, four blocks from MoMA and just steps from exciting Times Square and the Broadway Theater District. We are close to countless New York attractions, New York activities, New York restaurants and New York shopping, and close to nearly every New York subway line for direct access to all areas of Manhattan and New York City.