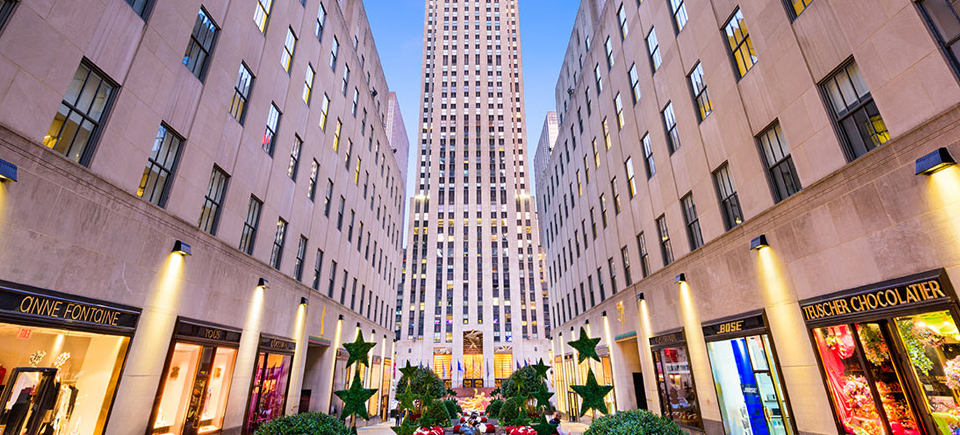 Rockefeller Center
Built as a monument to the greatness of New York City, Rockefeller Center is a tribute to art, design, music and commerce. John D. Rockefeller, Jr. began constructing the complex in 1930, in spite of the Black Tuesday of 1929. Thanks to this bold move thousands of desperate New Yorkers gained employment and the city was reborn.
More Info
Rockefeller's legacy has become a center where people of all walks of life come together to shop, dine, attend art exhibits or ice skate in fall and winter. No visit to the Rockefeller Center is complete without a trip to the Top of the Rock Observation Deck on the 70th floor to get 360-degree views of New York City. From here you'll see the Empire State Building, Central Park, the Statue of Liberty and much more.
Once you come back down, get lost among the specialty shops and restaurants housed within its center – you'll experience some of the best food and shopping in Manhattan. Rockefeller Center is also famed for its fountains, greenery, seasonal decorations, history, art, multimedia exhibits and architecture. Come Christmas, its plazas turn into an elegant display of holiday decorations, including its crowning jewel: the Rockefeller Center Christmas Tree.
Just around the block you'll find the Radio City Music Hall and NBC Studios, where renowned shows like the Saturday Night Live and The Tonight Show Starring Jimmy Fallon are taped. Set a whole day aside to explore the complex at your own place – there's plenty to see!
Location and Operating Hours
30 Rockefeller Plaza. Main entrance is located on 50th St, between 6th and 7th Avenues. Rockefeller Center is open everyday from 8am-12am. Hours may vary during holidays.
Getting there
From the Manhattan at Times Square, walk two blocks and you'll be there!
Ticket options
Top of the Rock - Visit the Observation Deck, stay as long as you want and photograph the views to your heart's content.
Rockefeller Center Tour - Take a guided tour of the history, art, gardens and architecture that make the Rockefeller Center a beacon of culture. The tours are in English only from 10am to 7:30pm every day.
RockPASS - This ticket combines a visit to Top of the Rock and the Rockefeller Center Tour – get the best of both worlds!
VIP Access - If you are short on time and are planning to do some shopping, choose this ticket to skip the lines and get 20% off all retail merchandise.
Sun & Stars - Do you want to see New York during day and night? This ticket upgrade allows you to go back twice on the same day.
Rock MoMA - Gain admission to the Top of the Rock and the Museum of Modern Art. It's a perfect choice for art lovers.
***
With so much to see in New York, especially around Midtown, the location of your hotel is key. Book your room with us and enjoy being just minutes from New York City's top attractions. Check out our offers to find the best deal for you.