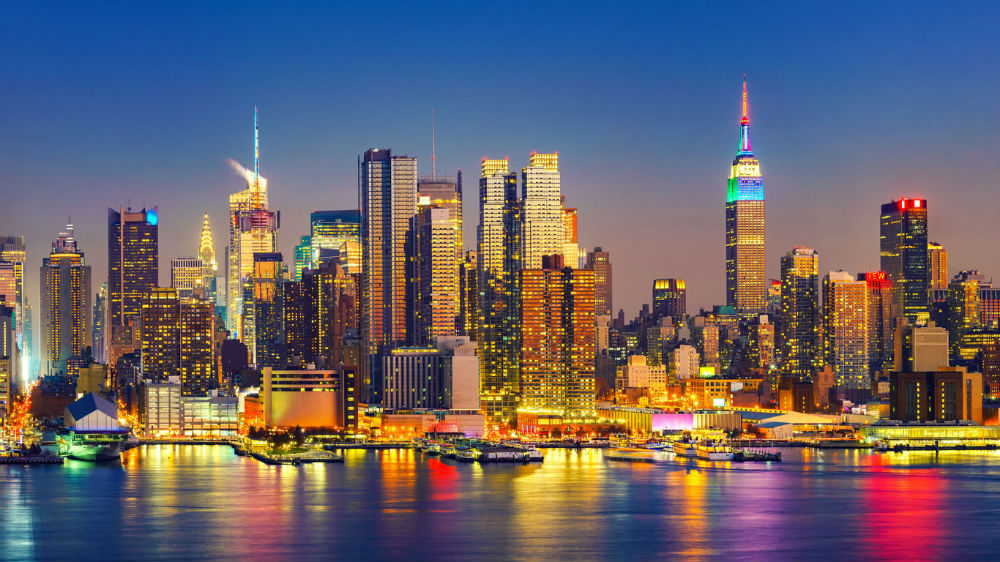 Being a tourist in New York City, especially for the first time, is daunting. This city has so much to offer that sometimes you don't know where to begin. But how to ensure you don't miss out? We've got you covered. The list below includes the five sights that no one should ever, ever, miss and which can be enjoyed year-round.
Times Square
Let's start with what you'll find at the doorstep of The Manhattan at Times Square. Shaped like a bowtie, the area surrounding the intersection of Broadway and 7th Avenue is a never-ending parade of blinding lights advertising shows, products or brands. Make the most of the pedestrian-only parts of Broadway between 42th St and 47th St to stop, take photos and let yourself be dazzled by the iconic sight, especially at night. Head to Duffy Square at 47th St to climb the red glass steps that will give you a bird's eye view of the most famous crossing in the world.
Statue of Liberty
You can't come to NYC without paying your respects to Lady Liberty. Given the crazy, high demand of this tourist attraction, you need to plan your visit in advance because tickets to the crown are limited and security queues are long. Your ticket to the Statue of Liberty can include only a visit to the base, i.e., Liberty Island. You can also visit Ellis Island to get your history fix on the millions of immigrants that arrived to NYC in the late 19th Century. If all you want is to see the Statue of Liberty from a distance, hop on the free (yes, free!) Staten Island Ferry to get a small tour of New York Harbor.
Empire State Building
Give your neck a break from looking up at all of those skyscrapers and visit the observatories of the Empire State Building on the 86th and 102nd floors, open from 8am to 2am. The 360-degree sight is impressive regardless of the time of day, but if you want fewer crowds, arrive after 11pm and see the entire city glitter away for you. Consider purchasing your tickets in advance to spend less time queuing and more time taking in the view.
Central Park
Think of Central Park as a neighborhood stretching from 59th St to 110th St. No matter the time of year, this nature haven has something to offer for everyone. Pick your favorite spot and have a picnic, enjoy a summer concert, take a guided walking tour, row on boats across the lake, go for a run next to real New Yorkers, ice-skate in winter, or just take a map and wander to find your favorite hidden spot. The Central Park Conservancy developed a free app (available on both IOS and Android) that will make exploring a piece of cake.
Metropolitan Museum of Art
You may say that art museums are not for everybody, but The MET is so much more than an art museum. It houses over 2 million works of art that tell the story of humankind's creativity – from ancient to modern art, to architecture and contemporary works. If this is your first time, you could take a free Museum Highlights tour or consult in advance their online collection to pick the galleries you prefer. Keep in mind that the "suggested admission" is not mandatory – if you can afford it, pay for it, otherwise, pay what you can!