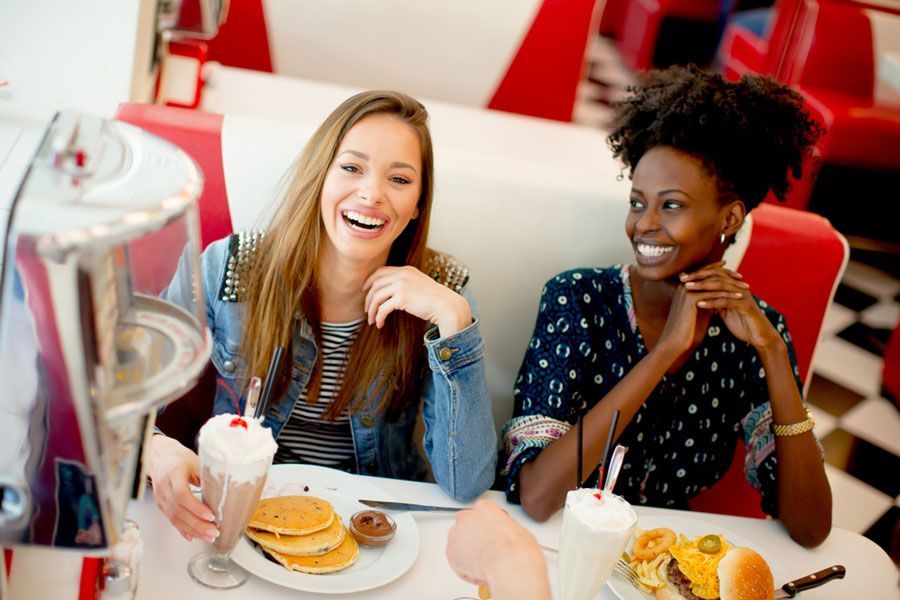 Diners. Those casual, retro restaurants serving burgers and fries with milkshakes are the quintessential American dining experience. These classic New York diners keep traditions alive while serving comfort food that would make any grandma proud.
Ellen's Stardust Diner
Location: 1650 Broadway, New York, NY 10019
Ellen's Stardust Diner is a Theater District gem located right across from The Manhattan at Times Square. Since it's located in the heart of Broadway, it's no surprise their staff is made up of singing waitstaff. Eating there is like attending a flashy and improvised musical. The decor and dishes are some of the most Instagrammable in the city.
Times Square Diner and Grill
Location: 807 8th Avenue, New York, NY 10019
New York never sleeps and neither does Times Square Diner and Grill. This popular diner has earned its reputation for providing fast service, perfectly cooked food and generous portions. Their menu includes salads, soups, all-day breakfasts, pastries, burgers, sandwiches and much more.
Empire Diner
Location: 210 10th Avenue, New York, NY 10011
Empire Diner is a famous and iconic New York eatery. It closed for a while in 2010 but finally reopened a few years ago. The revamped diner offers a more sophisticated experience without sacrificing the good ol' diner feel. Expect a contemporary menu of American classics prepared with quality ingredients and a lot of homemade items.
Tick Tock Diner
Location: 481 8th Avenue, New York, NY 10001
Tick Tock Diner is another restaurant open 24/7. If you're going to a show or concert at Madison Square Garden, this is the perfect place to stop by for a late-night snack. Tick Tock may specialize in American comfort food, but it has managed to introduce international items to their menu that blend in beautifully with the rest.
Johny's Luncheonette
Location: 124 W 25th Street, New York, NY 10001
A favorite old school diner is Johny's Luncheonette. Although it opened in 1994, the atmosphere, customer service and signature dishes are the result of a 40-year family legacy. Their breakfast platters, sloppy sandwiches and their pancakes are among the best in New York.
The Manhattan at Times Square is located within walking distance of most of these diners. Consult our special hotel offers and stay in the heart of Manhattan.