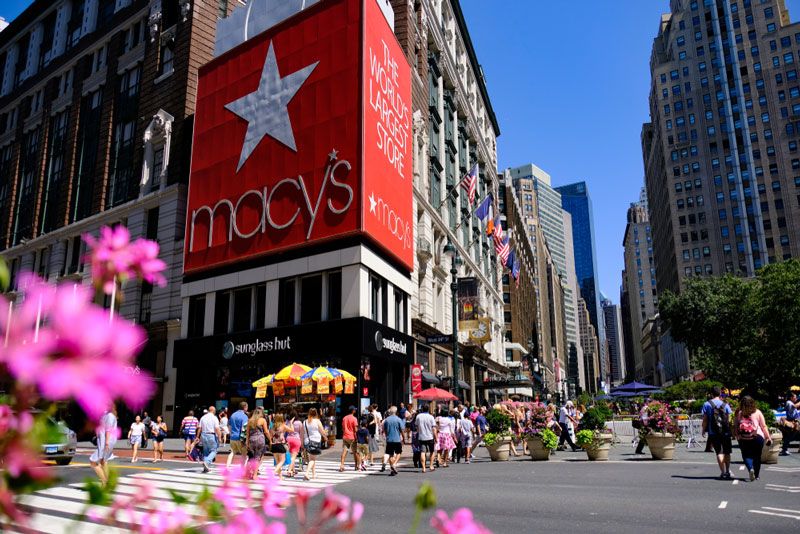 Shopping in New York counts as sightseeing. The city is home to mega stores, boutiques, department stores and markets. If you want to visit iconic and famous stores unique to New York, look no further.
Macy's Herald Square
Location: 151 West 34th Street, New York, NY 10001
The most famous department store in New York is Macy's Herald Square. And it happens to be the largest store in the world. Apart from providing a singular shopping experience, this store organizes annual events that have come to be part of New York's traditions. In spring, get ready for the Macy's Flower Show. Come summer, the store organizes the biggest 4th of July celebration. In fall, the Macy's Thanksgiving Day Parade kicks off the holiday season. By the time Christmas arrives, the store is bursting with Instagram-worthy holiday decorations.
Tiffany's
Location: 727 5th Avenue, New York, NY 10022
The uber-luxurious jewelry store became a New York icon thanks to the movie Breakfast at Tiffany's. So much so that getting a coffee to go and eating a croissant in front of Tiffany's at Fifth Avenue is a thing. While most of us can't afford to buy anything there, it's still fun to peruse and wonder what we would buy if we were rich and famous. The flagship store has The Blue Box Cafe, where you can have an actual breakfast, lunch or fancy afternoon tea.
FAO Schwarz
Location: Rockefeller Plaza, New York, NY 10111
FAO Schwarz is a toy store unlike any other. Located in Rockefeller Center, this store recently reopened but was established in 1862. Visiting will bring out the child in any adult. Shop for old-fashioned wooden toys, plush toys, games, puzzles, trains, remote control vehicles, and creative arts and crafts sets.
Christmas and City
Location: 142 Mulberry Street, New York, NY 10013
At Christmas and City, you don't need to wait for the holiday season to experience the magic of Christmas. Reindeer, baubles, garlands and stockings line the shelves year round. This is where you can find one-of-a-kind Christmas ornaments, many of them New York-themed. Next time you decorate your home for the holidays, show off your love for NYC.
Serendipity 3
Location: 225 East 60th Street, New York, NY 10022
Serendipity 3 is actually a restaurant known for holding a world Guinness record for selling the most expensive ice-cream sundae in the world. It's been featured in movies like Serendipity and celebrities frequent it. Savoring their Frrrozen Hot Chocolate will more than make up for the waiting time and cramped entrance. They sell their chocolate blends in packets and canisters with instructions on how to make them at home.
Your shopping spree should start when you book your comfortable room at The Manhattan at Times Square. Consult our exclusive offers and save on your trip to New York.