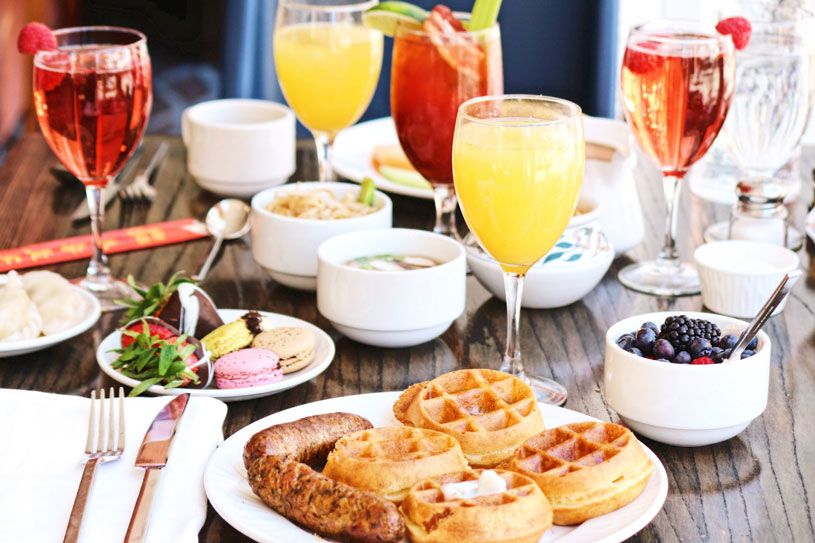 Weekend is the time to relax, sleep in and eat late—that's why brunch was invented. Pair your late breakfast with a cocktail and you have a superb way to start your day. If you want to squeeze in a laid-back and delicious weekend meal in NYC before heading home, continue reading!
Location: 40 Central Park South, 59th Street, between 5th And 6th Avenues, New York, NY 10021
As one of the most popular brunching spots in New York, Sarabeth's Central Park South is always crowded. However, the wait will be worth it. The menu is contemporary American food paired with a warm and welcoming atmosphere. You can choose from their extraordinary eggs, their many variations of eggs benedict, fruit, sweet dishes and savory entrées. The cocktails range from a classic Bloody Mary to a Four Flower Mimosa. Afterwards, explore Central Park and walk off your meal!
Location: 159 Lexington Ave, New York, NY 10016
A cozy and favorite local spot, Penelope brings a little of Long Island, NY, to Manhattan. Serving comfort food with a touch of the New York coast, this restaurant's fresh and hearty meals are hard to beat. Their weekend brunch includes a prix-fixe menu for $22 with any main + a brunch cocktail or Penelope Kobricks house blend coffee/tea and juice.
Location: 373 W 46th Street, New York, NY 10036
The Hourglass Tavern is in a 19th Century building in the Theater District. The Broadway crowds frequent this locale not only because of its strategic location, but because of its uncomplicated cuisine that mixes comfort with quality. Their menu includes a good selection of sweet and savory dishes, as well as cocktails and mocktails. Your meal will have a side of complimentary fresh home-baked bread!
Location: Worldwide Plaza, 308 West 50th Street, New York, NY 10019
While Blue Dog has a couple of locations near The Manhattan at Times Square, the only one serving brunch is at Worldwide Plaza, and, luckily, it's the closest one to the hotel! You can choose from various waffles, omelettes, quesadillas, salads, and much more. Their dishes include high-quality and locally sourced ingredients to give you a taste of New York.
Location: 701 9th Avenue, at 48th Street, New York, NY 10019
The name may have given you a clue of what to expect: comfort food and a homey feel. But that doesn't mean old and plain menu options. When you want a touch of fun and creativity, Mom's is the place to go. Their weekend brunch menu has everything from sandwiches, eggs, omelettes, sweet breakfast options, burgers, shakes and cocktails.
Don't have time for brunch? Then, book the Manhattan at Times Square's $1 breakfast package! For more tips on where to dine and drink in New York, follow our blog.