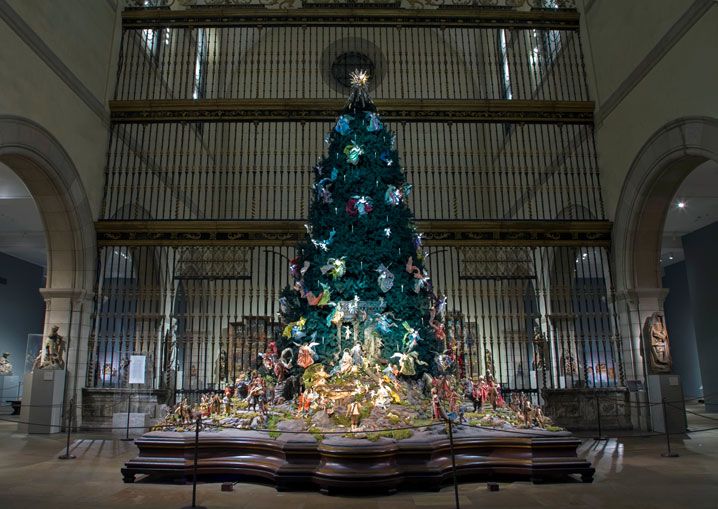 Do you have your New York holiday bucket list ready? You might want to make some room! Held at major museums like The Met and the Natural History Museum, these events bring together some of the world's major holidays in festive exhibits and events you can't miss.
Metropolitan Museum of Art - Fifth Avenue
Location: 1000 Fifth Avenue, New York, NY 10028
Christmas Tree and Neapolitan Baroque Crèche
Date: Through January 7, 2020
The annual Christmas tree at The Met Fifth Avenue is a must-see. This year's tree is 20-foot blue spruce adorned with 19 cherubs, 59 angels, and an additional 71 figures, inspired in Neapolitan rt from the 18th Century.
Eastern European Silver Menorah
Date: Through January 6, 2020
Visit the Eastern European Art Gallery to see an intricately carved 19th-Century silver Menorah on loan from The Moldovan Family Collection.
Holiday Sugar Sculpture
Date: Through December 2019
Check out the enchanting holiday display of sugar confections created by award-winning pastry chef Randy Eastman at The Dining Room on the 4th Floor.
Metropolitan Museum of Art - The Cloisters
Location: 99 Margaret Corbin Drive, Fort Tryon Park, New York, NY 10040
Medieval 'Christmastide' Decorations
Date: Through January 8, 2020
The Met Cloisters is bringing back traditional medieval Christmas decorations. You'll find these great archway and the Main Hall adorned with holly, fresh ivy and lady apples, hazelnuts, rose hips, and pine cones.
Holly, Ivy, Hawthorn, Rose: Plants and the Medieval Christmas
Date: December 28 at 12pm and 2pm
After seeing the medieval decorations, why not learn about their history and meaning? Join one of the two guided gallery talks!
American Museum of Natural History
Location: 200 Central Park West, New York, NY 10024
Kwanzaa 2019
Date: December 28, 2019
Join the museum in their annual Kwanzaa celebration of African-American heritage. The festival will include a local artisan market and special performances.
The Origami Holiday Tree
Date: Through January 7, 2020
The iconic Origami Holiday Tree is back for another year of magnificent paper creations. This year's 13-foot tree has over 800 hand-folded paper models by origami artists.
The Merchant's House Museum
Location: 29 East Fourth Street, New York, NY 10003
A Christmas Carol
Date: Through January 5, 2020
For the seventh year, The Merchant's House Museum is hosting a superb performance based on Charles Dickens's original script of A Christmas Carol. It takes places in the museum's elegant Greek Revival double parlor with period furnishings.
Can't get enough of New York's art and culture? Follow The Manhattan at Times Square blog for more New York travel tips.