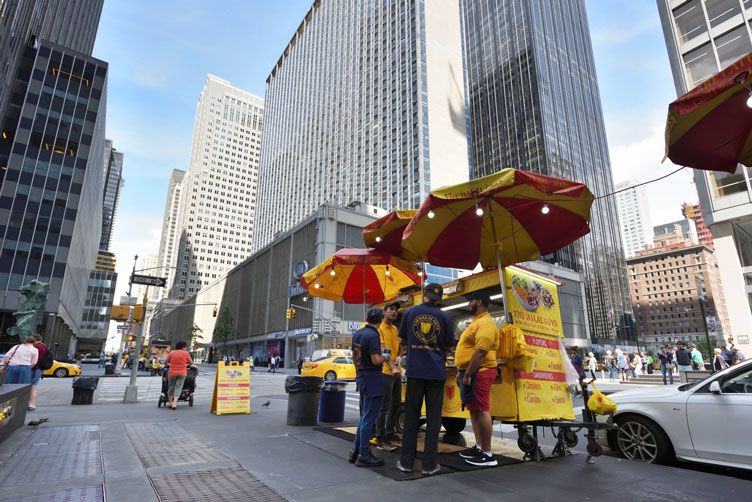 Hot dogs and pretzels. That's what comes to mind when you envision street food in The Big Apple. Although juicy, crunchy, and delicious, they always leave you wanting something more. We have just the thing for the next time you're craving something quick and easy from the streets of New York.
Famous for being Yelp's number 1 location in NYC, The Halal Guys offer halal meats that are seasoned to perfection among delicious Middle Eastern and Mediterranean flavors. They do, however, often have long lines so be sure to have a second option if you don't want to wait.
Craving a sweeter option? Wafels & Dinges offer both sweet and savory options with a speciality salmon benedict that is a must try. They also have toppings ranging from BBQ pork and chile con carne to the richest Belgian chocolate fudge and speculoos spread with whipped cream. Delicious!
A family-owned truck that's been around since 1971, this is a perfect option for when you are craving Greek food. They have come a long way since the hot dogs that made Uncle Gus famous. They have evolved to offer food with exquisite Mediterranian flair, served fast.
An outstanding mix between a fortune cookie and a French madeleine. Lings Sweet Mini Cakes are ideal when you want a bag of Hong Kong-style little balls of tasty batter. They have a ton of different toppings. Can't decide? Go for the classic condensed milk and chocolate drizzles.
What about street food that isn't meat or dairy? The Cinnamon Snail have mastered delicious and flavourful foods that feel like they belong on an a la carte menu. To top it off, they are 100% vegan.
If you prefer a classic New York hot dog, we recommend Sabrett hot dogs in Central Park. You can easily track the location of any of the street foods above and dozens more on Roaminghunger.
Times Square holds a myriad opportunities to try street food from all corners of the world. What better way to sample everything than by staying in Times Square itself? Book a comfortable suite at The Manhattan at Times Square and live in style while eating on the streets of NYC.