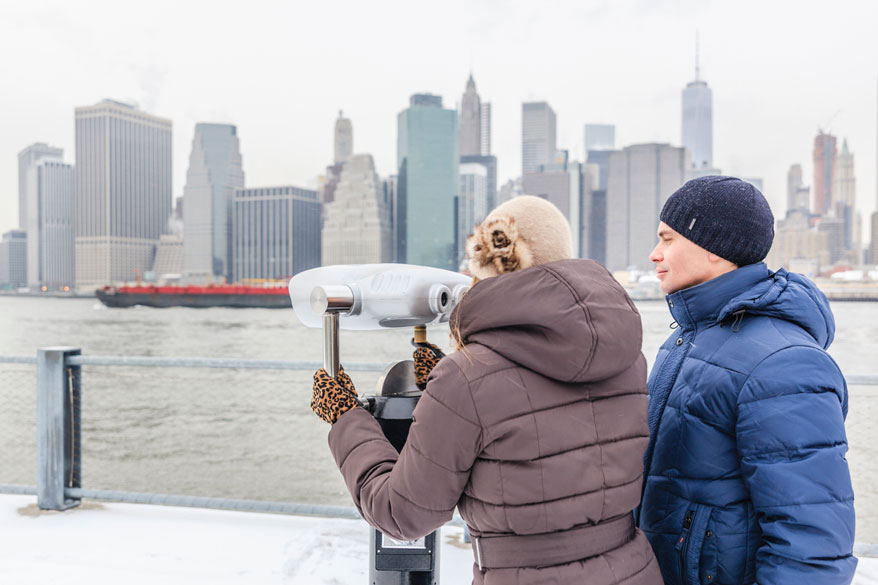 New York may be a top world tourist destination, but come winter, crowds dwindle and discounts appear! Traveling between January and February means great flight and hotel deals, discounted shopping and superb winter events. Whether you want to enjoy the snow in Central Park or see as many Broadway shows as possible, you'll be surprised at how much you can do this winter in NYC!
When: January 26, 2019, from 11am to 3pm
Where: Central Park, Bandshell Area, Enter at 72nd Street
For one day only, Central Park is transformed into the ultimate free winter sports festival. Winter Jam is all about teaching people that winter can be as fun — or more so — than summer. By blowing inches and inches of snow, the organizers guarantee a great experience for all. There will be ski and sledding lessons, live ice carving, an ice sculpture garden and live music.
When: Running until March 3, 2019
Where: Bryant Park, 40th and 42nd Streets, between 5th and 6th Avenues
Although the Holiday Shops have closed, the Winter Village is still going strong. The Rink remains open, free for all, while The Lodge continues serving delicious winter food. What's more, January and February will be inundated with unique events, such as the glamorous Ice Ball.
When: January 21 to February 10, 2019
Where: Theater District
Broadway Week is New York's way of showing its appreciation toward theater loves. Why? Because you'll be able to purchase 2-for-1 tickets to the top Broadway shows in town! This includes musicals, kid-friendly shows and plays. Now is the time to cross that long-awaited Broadway show off your list. Tickets are on sale now.
When: January 21 to February 8, 2019
Where: Various locations
Why not have a great dinner before or after your Broadway show? Over 300 restaurants all over New York will be offering prix-fixe menus, 2-course lunches at $26 and 3-course dinners starting at $42 per person. The best thing is that this program includes some of the hottest restaurants in NYC that would otherwise be too expensive to try! Reservations are open now.
When: January 21 to February 10, 2019
Where: Various locations
First time visitors will be thrilled by NYC Must-See Week. As the name suggests, you'll be able to purchase 2-for-1 tickets to New York's ultimate attractions. This includes iconic sights like the Empire State Building, the MOMA, the Guggenheim or the 9/11 Museum, but also ballet performances, classical music concerts, sightseeing cruises, walking tours and much more.
We mentioned earlier that winter is a time of hotel deals. Consult the Manhattan at Times Square's special offers and find the best hotel deal in New York!