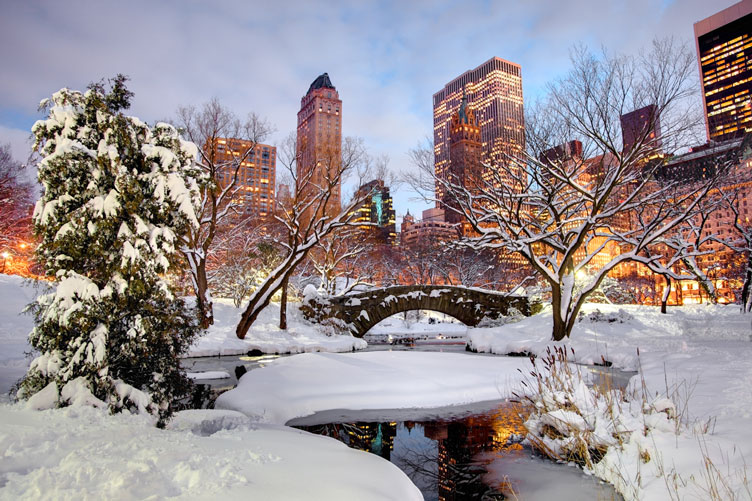 Winter is in full swing. If this is your first time visiting New York during the coldest months, you're in for a treat. Although New Yorkers experience below freezing temperatures at this time of year, nature rewards them with a stunning display of frosty beauty. Head straight to these locations to snap the perfect photo of a snowy New York day.
Central Park's Winter Wonderland
Winter Sports
New York's biggest park is where you'll find the absolute best spots for winter photography. You can choose to photograph people practicing winter sports: ice-skaters on Wollman Rink and Lasker Rink, cross-country skiers on the The Great Lawn (79th to 85th Streets) or Sheep Meadow (66th to 69th Streets), and snowshoers traversing the park's bridle paths.
Bridges and Ponds
Central Park's bridges offer some of the most photographed corners of the city. The cast-iron Bow Bridge is the most popular and romantic bridge in the park. The stone Gapstow Bridge (62nd Street) is another famous bridge that overlooks The Pond and The Plaza Hotel.
Trees
Capturing The Mall (66th to 72nd Streets) covered with fresh snow is one of the best winter photographs you can take, especially if you manage to arrive before anyone else does. This is also a great spot if you like tree-lined walkways. If you want to photograph snow-covered pines, head instead to the Arthur Ross Pinetum, between 84th and 86th Streets, to see 17 different types of evergreen pines.
See New York from Above
Everyone loves the city's skyline. While every season brings something different, winter is quite unique. Seeing New York covered in a blanket of snow from a good vantage point will offer excellent photo opportunities.
The best way to get a bird's eye view of the city is by visiting New York attractions with observation decks: the Empire State Building, Rockefeller Center and One World Observatory. The outdoor decks are open during winter, weather permitting, otherwise, you can still enjoy sweeping views from the inside.
With so many places to visit this winter, you need to make sure you're dressed appropriately — especially if you aren't used to the snow and freezing temperatures. Don't worry, though, we have put together a useful guide to help you pack the right clothes for your trip to New York.