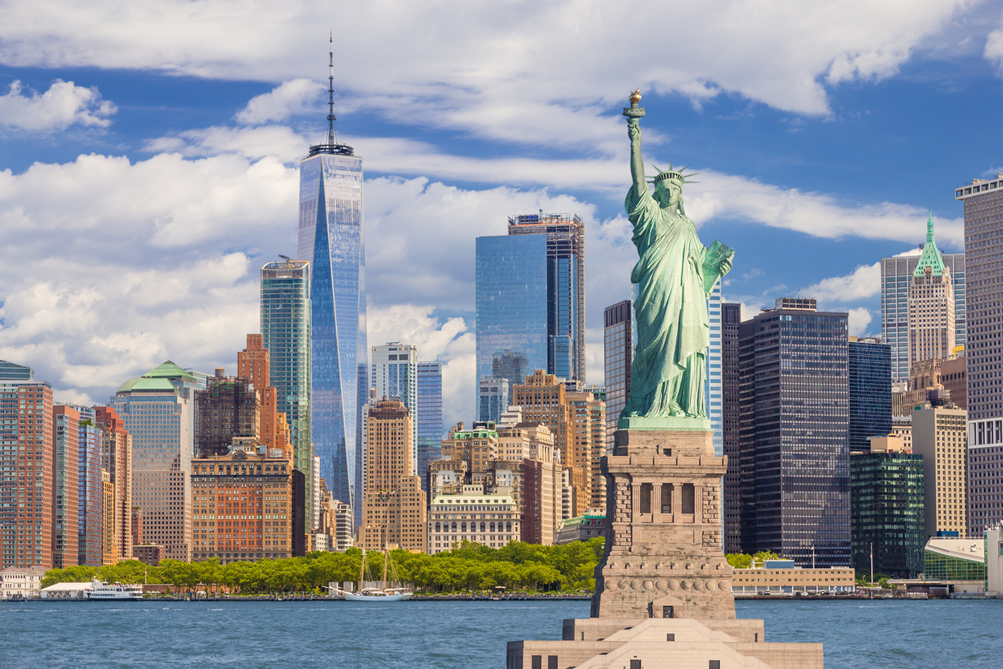 The iconic New York skyline is made up of skyscrapers that are well-known all over the globe. Some of the most popular ones are open to the public. But the city has other attractions that transport visitors to the clouds for sweeping views of New York. Here are the 5 tallest attractions in New York.
Make way for the lady of the city. The Statue of Liberty is an obligated stop when visiting New York. You can choose to see it from the water in the comfort of a free ferry or buy a ticket and become truly acquainted with the quintessential New York attraction. The ultimate views are at the Crown, but access is limited and must be reserved in advance.
The most popular attraction in Manhattan is the Empire State Building. Its geometric and clean architecture has been a true New York City icon for decades. The Main Deck at the 86th Floor is an outdoor deck while the 102nd floor is an indoor viewing room. Either observatory receives its visitors with bird's-eye views of Manhattan, Brooklyn and even New Jersey.
Located across the sky from the Empire State Building, Rockefeller Center is a small city located in the heart of Midtown. Purchase a ticket to visit the Top of the Rock to explore the viewing decks located on the 67th, 69th and 70th floors. Though they're located lower than the Empire State's deck, you'll see Central Park, Midtown and Downtown Manhattan from a new vantage point.
Although not as popular as Central Park or Bryant Park, the High Line stands out from New York's parks. It's the only one located along an elevated structure, making it the highest park in the city. What once was an old and abandoned rail line is now a beloved park featuring perennial and local flora. It's 1.45 miles long and offers interesting views of Chelsea and the Hudson River.
Last but not least, the newest member of New York's skyline is the One World Observatory. This building is part of the new World Trade Center and, currently, the tallest structure in the city. It was built with a wow-factor always in mind. In fact, the observatory even has a glass disc called the Sky Portal where you can stand and look down at the streets below. The technology behind the innovative SkyPod elevator and the various interactive exhibits is nothing short of futuristic.
Do you want more stunning views of New York? Check out the Manhattan at Times Square special offers and book a room with views of Broadway, Times Square and Midtown.