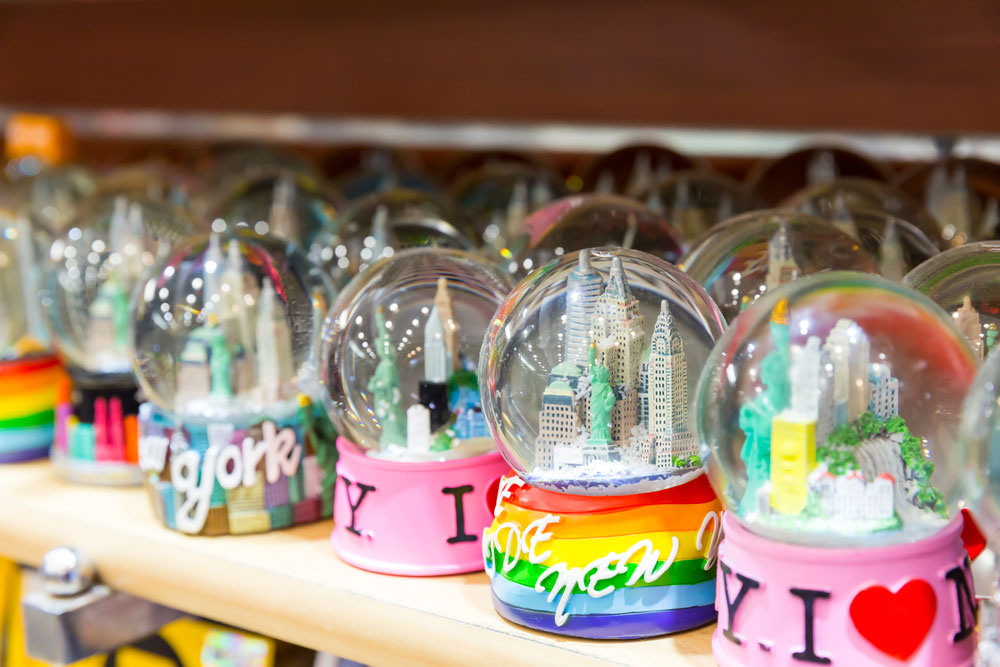 Any trip to New York has to include at least one item that will bring back all the memories of your vacation. But how to choose the right one for you? Considering that millions of tourists travel to New York every year, souvenir and gift shops can be found at every corner, especially at Times Square. As a hotel that welcomes visitors from all over the world, we have acquired a knack for identifying the souvenirs that our guests will love. Here's a list of our top five recommended souvenirs.
Manhattan at Times Square Gift Bag Deal
First things first, when you book with us, choose The Big Apple Gift Bag Package which includes a coffee mug, a keychain, a magnet and a pen per room. This is particularly helpful if your stay is short or if you just want to avoid the hassle of looking for good quality souvenirs.
"I ♥ NY" Items
For the quintessential NYC souvenir, choose t-shirts, tote bags, hats or sweatshirts with the world-famous phrase "I ♥ NY." We know this might be a cliché souvenir, but we also know most people wear their purchases proudly anywhere they go. These shops also sell Statue of Liberty figurines, snow globes or Manhattan skyline-inspired knick-knacks.
Museum Gifts
If what you want is a reminder of the great works of art you saw while in the Big Apple, take advantage of your visit to the MET, the American Museum of Natural History, the MOMA, the Guggenheim, or any other museum of your choosing and visit their gift shop. You can always find a great selection of souvenirs featuring the jewels of the museum's permanent collection or specialty items focused on temporary exhibitions.
Broadway Shows Merchandise
Any trip to a show in the theater district needs to be commemorated with Broadway-inspired souvenirs. You can find everything from autographed posters to apparel, original cast soundtracks, mugs, stuffed animals, and the list goes on! If you want to relive your favorite Broadway show or someone at home couldn't join you, DVDs of live performances are a perfect choice.
Zabar's Food Basket
Last but not least, the gift for the foodies. Zabar's is one of the most famous food stores in New York City, even among locals. If you are seeking to continue eating like a New Yorker when you are back home, invest in a gift basket of gourmet cuisine full of Zabar's best products.
If you are also looking for recommendations on the top NYC sights, visit our attractions page.