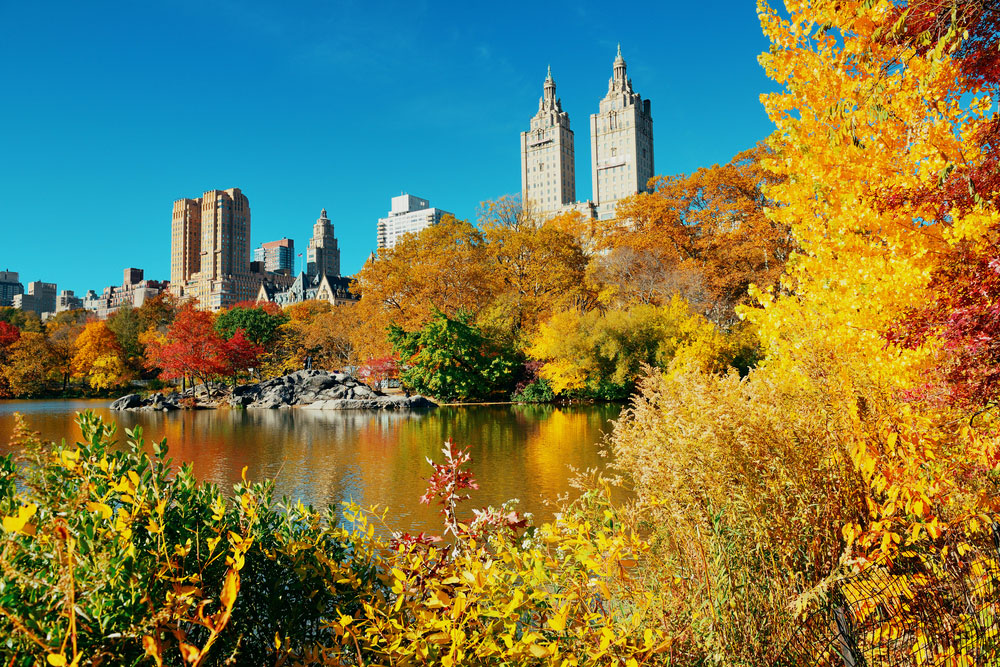 'Tis the season for leaf peeping! And Central Park is the place where you want to be. The wide variety of trees that make up the park transform into all sorts of hues of yellow, orange and red. Feast your eyes on gorgeous landscape after landscape by exploring the following areas, starting at Central Park's south end, which is only a short walk from the Manhattan! For more information on how to get to other sections from the Manhattan at Times Square, visit our guide to Central Park. Keep in mind that the species of tree vary in each spot, so don't rush and take your time to stroll at your own pace to truly absorb the beauty of nature. If you would rather rent a bike, download this map to see the park's bike-friendly areas.
Some of the most iconic areas in fall are the Pond (corner of 59th St and Fifth Avenue), the Mall (66th to 72nd St) and the Reservoir (85th St to 96th St). The North Meadow (97th St to 102nd St) and the Pool (100th St to 103rd St) are great options to see open spaces encircled by different colored trees and have a picnic. Hiking around the Ramble (73rd to 79th St) and the North Woods (101st St to 110th St) will transport you to the great outdoors and you might even forget you are in the middle of a city. Lastly, the manicured gardens and sculptures of the Conservatory Garden (104th St to 106th St) will slowly pull you back to civilization.
As you can see, touring Central Park in the search of the perfect-colored tree could take hours. Make sure you are energized by taking advantage of our Grab 'n Go Breakfast package. Since fall foliage tours are on high demand, it's easy to find information about the best time to catch the trees at their most colorful selves. Our favorite site is Foliage Network, which every year publishes weekly reports on the progress of foliage color across the United States. Usually, New York City reaches its peak season in the second half of October.
Fall is also a time for traditions. Halloween and Thanksgiving are a big deal everywhere in the United States. If you happen to be in New York at that time, join in the celebrations by sharing ghost stories or taking history walking tours! Check out the calendar of events at the Central Park Conservancy official page.