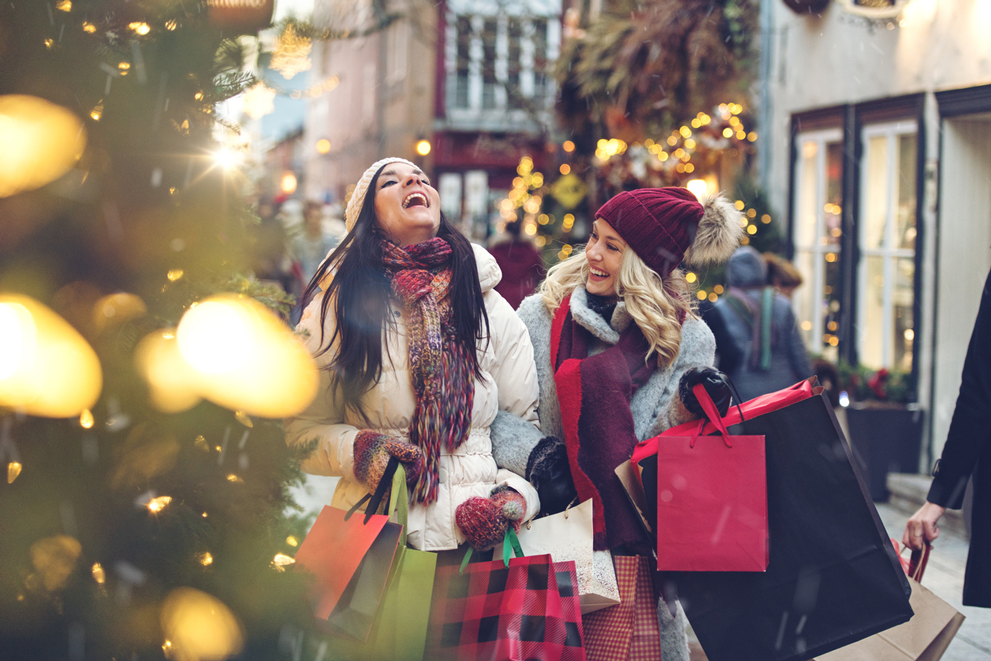 Shopping in New York any time between Thanksgiving Day and New Year's Eve is always a good idea. Why? Sales, sales and sales! Continue reading to find out which stores should be in your shopping itinerary. What's more, these stores are beautifully decorated for the holiday season. Get ready to shop until you drop.
For Discount Shopping
Location: 151 West 34th Street New York, NY 10001
Macy's flagship store is always packed with people, but arriving early makes a big difference. Although you may choose to visit other stores, the Herald Square location is one of the largest department stores in the world. Its history is as interesting as the items — and sales — you'll come across.
Location: 1000 Third Avenue 59th Street and Lexington Avenue, New York, NY 10022
Another store selling high-end apparel, accessories and even home decor is Bloomingdale's. You may remember it from the movie Serendipity! Just a few block from it is the popular NYC restaurant Serendipity 3, where you can take a break from your shopping spree.
Location: 125 East 57th Street, New York, NY 10022
Saks Fifth Avenue is great, but you know what's better? Saks OFF 5TH. This store sells designer apparel at discount prices year round… And sales get better during the holiday season. This is where you want to splurge on those hard-to-find accessories or iconic designer pieces.
For Christmas Decorations and Presents
Location: 30 Rockefeller Plaza New York, NY 10111
The toy store everyone dreamed of as a child exists in New York. Although FAO Schwarz is just reopening in New York, it was founded in 1862. Bring your kids along and show them what it was like to grow up without tablets or cellphones!
Location: 871 7th Avenue, New York, NY 10019
This store tries its hardest to remain a small and cozy locale in spite of its popularity. You can purchase anything from delicate ornaments to knitted stockings. Make sure to check out their window displays and decorated Christmas trees.
Location: 142 Mulberry Street, New York, NY 10013
Popular among those looking for personalized and thematic gifts, Christmas and City is a favorite holiday shop located in the heart of Little Italy. Most of the items you'll encounter are exclusive to the store. They specialize in ornaments, but they also stock Christmas lights, garlands, wreaths and toys.
If you plan on hunting for Black Friday deals (November 23, 2018), make sure you check the opening times as most stores will open early and close late. If you'd rather shop on a less hectic day, read our post on where to shop for discounted clothing in NYC.