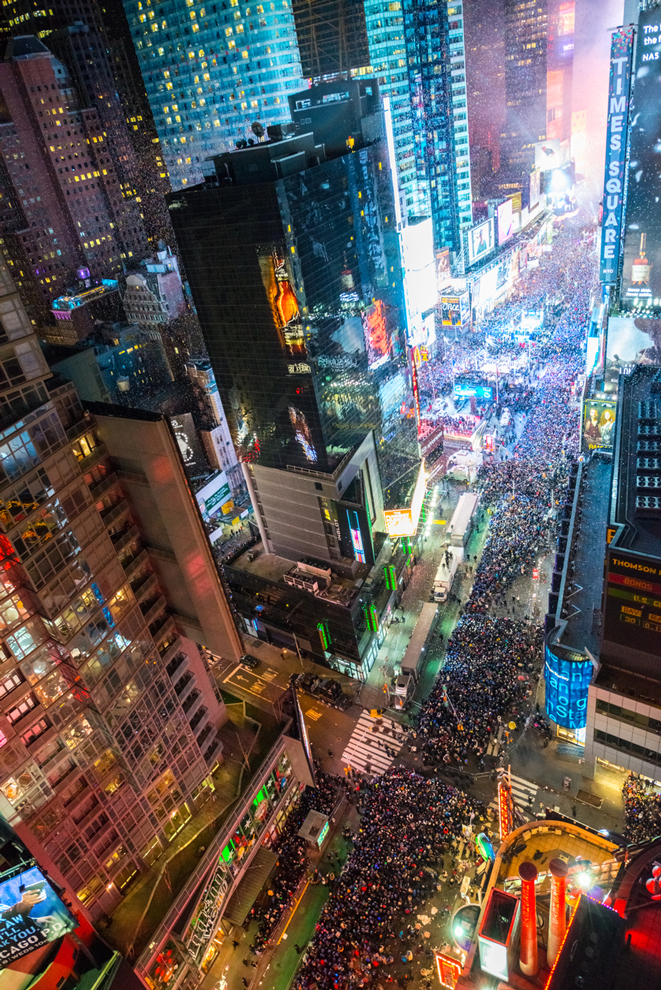 The most famous New Year's Eve celebration in the world takes place in the heart of New York City. Times Square has been holding the famous Ball Drop every year at midnight since 1907! Here's everything you need to know.
Watching the Ball Drop at Times Square
The first thing you need to know is that if you're planning on seeing the Ball Drop and New Year's Eve show, you won't do much else that day. It takes an early start, a long wait and slow moving crowds to see the Ball Drop and show in all their glory. The flagpole is set up at the intersection of Broadway and 43rd Street and the ball is raised at 6pm.
Useful Tips
Arrive between noon and 3pm for prime viewing spots around 43rd Street.

You can see the Ball Drop from Broadway between 43rd Street and 50th Street, and Seventh Avenue from 43rd Street up to 59th Street.

Most people access from Sixth and Eighth Avenues, but by staying at the Manhattan at Times Square, you could exit the hotel and walk down Seventh Avenue to find a spot.

Once you find a place to see the Ball Drop, don't leave! If you do, you won't be able to get back.

Streets are closed as people arrive, so the earlier you show up, the best chances you'll have to land a great spot. But keep in mind that it will take a while to exit once the event is over, so be patient!

There are no bathrooms or food vendors. Make sure you go to the bathroom, eat and drink before heading out. Bring your own snacks and stay hydrated.

Alcohol isn't allowed.

Dress warmly — New Year's Eve weather is usually below freezing. Read about what to pack when traveling to New York.
Although going to Times Square on New Year's Eve may seem daunting, joining a million people for the energetic countdown is well worth it!
Partying in Times Square
If your idea of welcoming a new year isn't standing in a crowd for hours, then take a look at these superb New Year's Eve parties. All of these bars and restaurants are located near the Manhattan at Times Square.
The Knickerbocker - St. Cloud Rooftop New Year's Eve
Planet Hollywood New Year's Eve
Olive Garden New Year's Eve Celebration
Madame Tussaud's Times Square New Year's Eve
Bourbon Street New Year's Eve Celebration
For those who prefer something different, read about celebrating New Year's Eve beyond Times Square. The city that never sleeps has something for everyone!