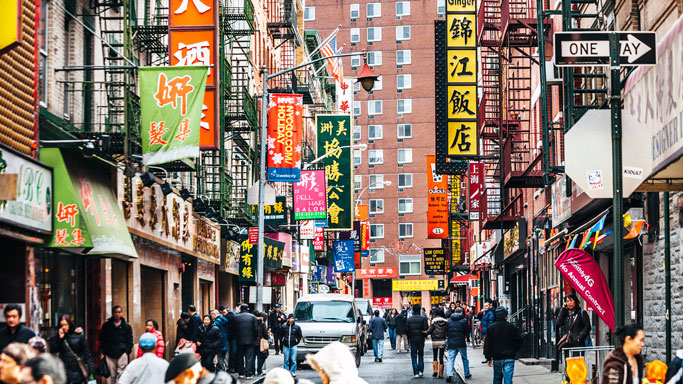 Have you ever wondered why New Yorkers always order Chinese takeout? It's not just because the food is delicious, but because Chinatown Manhattan is a hub of authentic Asian experiences. This neighborhood also happens to be located in one of the oldest areas of New York. As a result, the cultural heritage is quite unique. Read on and discover one of the most interesting corners of New York!
Location
Between Broadway and Essex Street, and from Grand Street to about East Broadway in Lower Manhattan.
What to Do
Lunar New Year Festival and Parade and Firecracker Ceremony
Visiting New York in February means being part of the Lunar New Year celebrations. We've already covered these events in How to Celebrate the Chinese New Year in NYC.
Chatham Square
See the iconic Kim Lau Memorial Arch, erected in 1962, as well as a statue of Lin Ze Xu, a 19th-Century Chinese official who started the war against illegal opium imports. Nearby is the Confucius Plaza, where a statue of the great philosopher stands.
Walk around the Most Popular Streets
If you want to get a real feel of the neighborhood, set time aside to walk around Mott and Canal Streets — considered the center of Chinatown —, Doyers Street, between Pell Street and Chatham Square, where you'll recognize the strange but popular 90-degree turn featured in countless movies and TV series.
Five Points and Columbus Park
The intersection of Mosco, Worth and Baxter Streets has a long and grisly history. This area, including Columbus Park, was once the heart of New York's slums, mostly populated by Irish immigrants. You may remember it from the movie "Gangs of New York." Today, the actual intersection no longer exists, but it still draws visitors, who can also enjoy a stroll around Columbus Park.
Top Cultural Attractions
The Museum of Chinese in America
Mahayana Buddhist Temple
Edward Mooney House
Where to Eat and Drink
One of the main draws of Chinatown is the authentic food. While the options are endless and cover a variety of Asian cuisine, there are some eateries that you have to try at least once.
Let's start with The Original Chinatown Ice Cream Factory. This is a popular tourist destination with long queues, but their exotic homemade ice cream flavors and signature ice cream cakes are worth the wait. Second on the list is Nom Wah Tea Parlor, established in 1920 as a Chinese bakery and tea parlor. It serves fresh Chinese pastries, steamed buns, dim sum, and tea in a vintage atmosphere that hasn't changed for generations. For dessert, head to Aji Ichiban to choose from the many Chinese candies and snacks. Try some of the favorites: White Rabbit and Candied Ginger.
Discover more New York neighborhoods by following The Manhattan at Times Square blog.