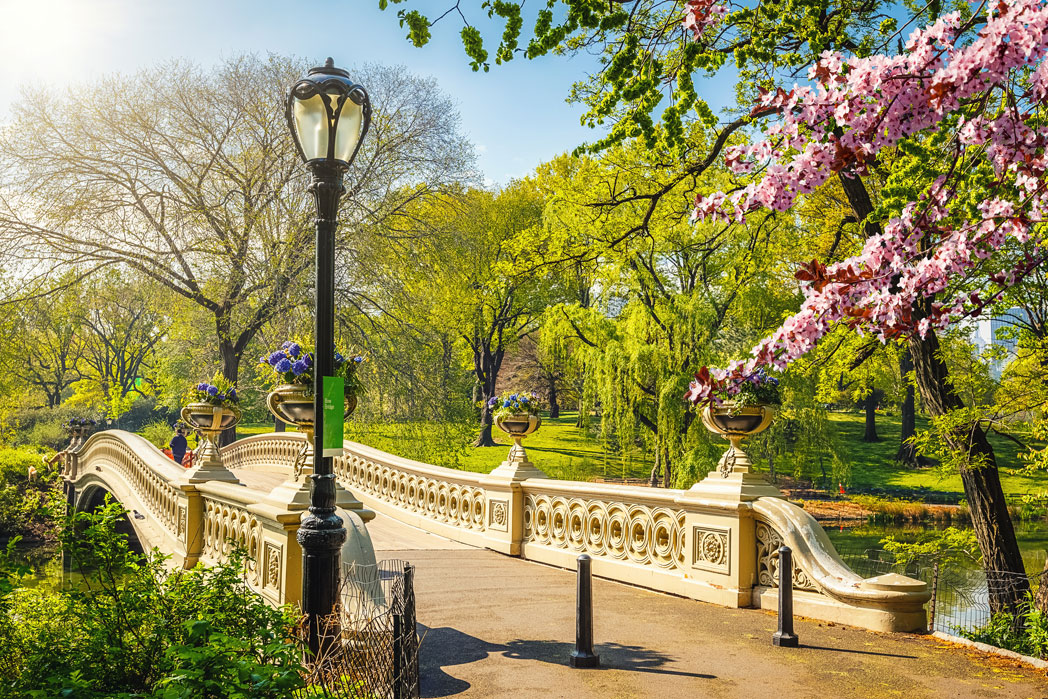 Capturing a trip on camera is almost as essential to a tourist as air. Once we are old, we want to impress the young ones with jaw-dropping images that go along with our travel tales. So, we have taken it upon ourselves to pinpoint the exact locations that should be visited to shoot the perfect New York City photos. To see our tips on other popular spots like Times Square and the Statue of Liberty go to this earlier post.
Central Park
The mere size of Central Park is an indication that there is no shortage of picture perfect spots. However, to capture the most representative images, start at The Pond at the corner or Central Park South St and Fifth Avenue, where you can also get a glimpse of The Plaza Hotel.
Take a hike up The Mall and Literary Walk to see gorgeous tree-lined paths – this route is particularly breathtaking in summer and fall. Continue walking until you reach the Bethesda Terrace and Bethesda Fountain, one of the most photographed and recognizable places in Central Park. The path on the left will take you to the Bow Bridge, overlooking The Lake – the most romantic bridge in park!
Bridges and Manhattan Skyline
A trip to Brooklyn will give you the chance to shoot many things at once. Walk one mile across the Brooklyn Bridge Pedestrian Walkway – you can stop along the way to take the classic shots of Brooklyn Bridge's Manhattan Tower.
Once you are in Brooklyn, devote some time to explore the area dubbed as DUMBO (Down Under the Manhattan Bridge Overpass) and the Brooklyn Bridge Park. Go to Washington St between Water St and Front St to get the popular shot of the Manhattan Bridge nestled between buildings. In Brooklyn Bridge Park, head to Pier 1 to kill two birds with one stone – the Brooklyn Bridge will be to your right and Manhattan's downtown skyline will be straight ahead.
Architecture
When it comes to one-of-a-kind buildings, New York has its fair share of architectural wonders. The Flatiron Building has a triangular shape that is unique in the city. Stand on Broadway or Fifth Avenue between 22nd and 23rd St to find your favorite angle.
In Grand Central Terminal you'll encounter plenty of photo opportunities with its Roman-inspired facade, the clock above the information kiosk and the ceiling depicting constellations and Zodiac signs. Climb the stairs of the Main Concourse to get the iconic shot. While you are there, cross the road to stand at the corner of E 42nd St and Vanderbilt Avenue to get a photo of Grand Central and the Art Deco-style Chrysler Building.