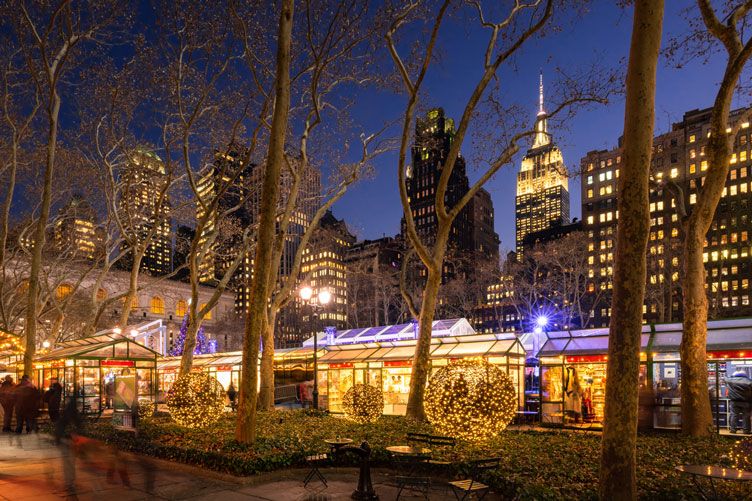 It's already Christmas in Bryant Park! A Manhattan's very own winter wonderland, the Winter Village has surprises around every corner. If this is your first time exploring Bryant Park at this time of year, here's everything you need to know about it.
The Rink: New York's Only Free Ice Rink
Ice skate and save a few bucks by reserving your slot at the Winter Village's ice rink. This 17,000-square feet rink is at the heart of Bryant Park and offers beautiful views at day and night. The best news is that admission is free and skate rental is between $18 and $48 depending on the season. Visit early in the mornings, before Thanksgiving and after New Year for cheaper prices and fewer crowds.
The Lodge
Nothing beats spending time on the ice and heading straight for the hot cocoa when you're done. The Lodge is a rinkside bar and food hall. Think of it as a cozy food market featuring some of New York's best eateries and cocktails. Embrace the winter at its outdoor beer garden and order a heart-warming drink to go with your meal.
The Overlook
If you'd rather warm up indoors, climb to the second floor of the Skating Pavilion to the Overlook. Pull up a chair, play chess or simply watch the skaters below. This observation deck is perfect for those looking to relax and escape from the cold. Everything is free!
Special Events
Don't miss out on the Winter Village best events! Check out the Tree Lighting ceremony, the many skating events, activities for children and adults, games, performances and more. Many of these events are free to attend.
The Holiday Shops
We saved the best for last. The Winter Village wouldn't exist would the Holiday Shops. Bryant Park's holiday market has over 175 vendors showcasing the best of New York. Are you looking for a special Christmas ornament? Check. Do you want to shop for crafts and artisan objects? Check. Are you craving a seasonal snack? Check. The shops are located along the edges of the park-get ready to spend hours browsing, tasting and shopping in one of New York's best holiday markets.
Book your winter getaway The Manhattan at Times Square. Consult our hotel deals and get the best rate when booking direct!