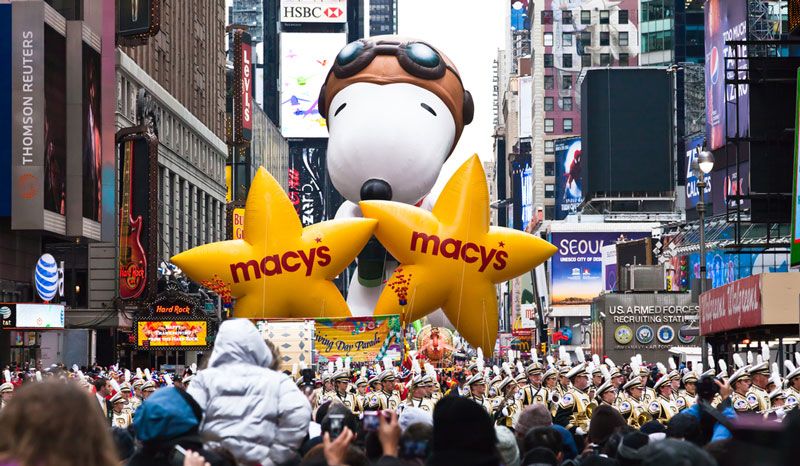 The days leading up to Thanksgiving are full of events, excitement and pre-holiday cheer. In New York City, this time of year is marked by the world-famous Macy's Thanksgiving Day Parade. However, there's more to see and do in NYC around this holiday. Find out more below.
Thanksgiving Celebrations in New York
As mentioned earlier, the Macy's Thanksgiving Day Parade is an event unique to New York. It starts at 9am in the Upper West Side and ends at Macy's Herald Square, one of New York's most iconic stores. This fall extravaganza draws thousands upon thousands of spectators to the streets of the Big Apple. If you want to see the balloon inflation, head to the American Museum of Natural History the previous day between 1pm and 8pm.
Eating Thanksgiving Lunch or Dinner in New York
We've talked before about the value of prix-fixe menus. If you're looking to try a traditional meal in New York, your best option is finding a prix-fixe menu. Luckily, Midtown has many options! Check our suggestions for Thanksgiving lunch or dinner options in Midtown or check OpenTable for more alternatives.
The Best Black Friday Shopping in New York
The day after Thanksgiving is called "Black Friday," a day with unbelievable deals on everything you can get your hands on. If you want to shop on that crazy day, you need to know where to go. Read our blog on everything about Black Friday in NYC to learn about the stores offering the best deals and tips on how to make the most of the experience. We recommend checking out our money-saving shopping tips to ensure you don't break the bank!
Book your NYC winter escape at The Manhattan at Times Square. Our Midtown location is steps from restaurants, the Macy's parade and many top NYC attractions.