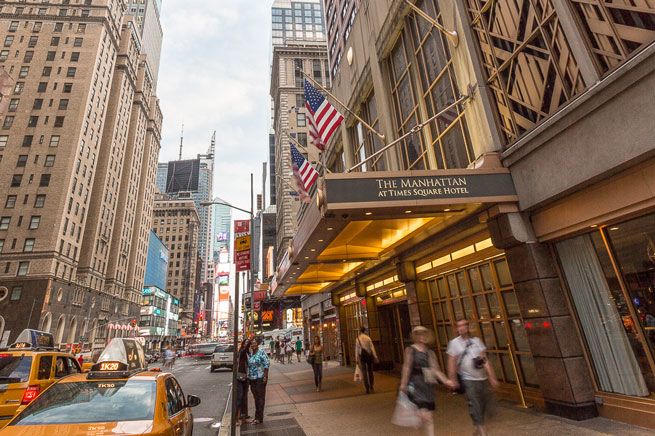 The Manhattan at Times Square Hotel pairs ideal New York City accommodations with a coveted Times Square location. Close to dozens of New York activities and attractions, restaurants and things to do, you'll be awed by the hustle and bustle of the Times Square streets that surround our hotel.
Enviable New York City Location
Times Square is the beating heart of New York City. And we happen to be right smack in the center of it. See a true urban jungle from the view of your room, with high-rise buildings and the fast paced life of the city surrounding you. Book one of our high floor rooms for even better views. If you want the ultimate city view, stay in a Broadway facing room—this room is in high demand for New Year's Eve!
Easy Access to New York's Best Attractions
Once you step outside The Manhattan at Times Square, you'll be within minutes of New York's world-famous attractions. Whether you want to check out the view from the Empire State Building or stroll around Central Park, we're a short walk away or a quick subway ride. Are you a Broadway fan? The best plays and musicals in Theater District are a couple of blocks from the hotel.
Close to Manhattan's Best Shopping
We've said it before and we'll say it again: location, location, location! New York is home to some of the best shopping in the world. Explore the best stores in Times Square, browse vendors in flea markets or visit iconic shops. If you're in a budget, follow our money-saving tips to stretch your dollars. Read all of these tips in our Guide to Shopping in New York.
Personalized Guide to the Best of New York
Speaking of guides, The Manhattan at Times Square blog is your personalized travel guide to everything you want to know about New York. We offer travel advice, budget tips, insider information on major attractions and the latest updates on New York's best events. Check out our NYC Neighborhood Guides and venture beyond Midtown.
Hot Deals and Special Packages Year Round
See as much of New York as possible for a great price by booking one of our hotel deals. Browse our year-round hotel packages which include free breakfast, a gift bag or gift cards. Keep an eye out for our seasonal deals and limited time offers for even greater savings.
Are you convinced that this hotel is the right one for you? Allow us to sweeten the deal. Book our Black Friday/Cyber Monday Offer and get up to 49% off plus free breakfast!