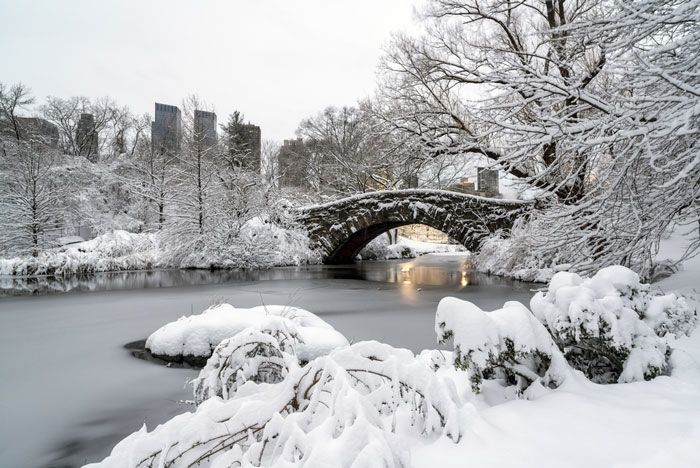 Winters in New York can be frigid. If you're not used to below-freezing temperatures, you might find it hard to want to step out the door and explore the Big Apple. Follow these tips to make the most of your winter vacation in New York.
Wear the Right Clothes
No, we don't mean a fashionable New York outfit. When you're planning to travel to New York in the winter, you have to consider drastic weather changes. Rain, snow, strong winds and sub-zero temperatures are part of the deal. Therefore, packing for a New York winter involves hunting for insulated, waterproof jacket and shoes. Remember that the key to staying comfortable indoors and outdoors is layers, layers, layers.
Embrace Snow and Ice
Before deciding to spend the entire day indoors, understand that snow and ice are fun—with the right gear, of course. Enjoy New York's best winter activities: go ice-skating at the many rinks across the city, practice winter sports in Central Park, go sledding or take part in seasonal outdoor events.
Indulge in Warm Seasonal Drinks
One of the best things about cold weather is the warm seasonal drinks that come with it. Whether you prefer hot chocolate or cider, mulled wine or peppermint lattes, you can find traditional and heart-warming drinks all over New York's cafés and bars.
Visit a Cozy Bar
Speaking of bars, what do you say to grabbing a warm cocktail and sitting next to a fireplace? Manhattan is home to various bars that become a favorite hangout during the winter months. What makes them so popular? Their fireplaces, wooden décor, leather seats and old-school cushions. Check out our list of the coziest bars in New York.
Photograph Snowy New York
No winter adventure in New York would be complete without a few dozen photos of its most picturesque white landscapes. Visiting Central Park is a must, especially the tree-lined Mall, the Pond and Lake, as well as its many bridges. If you want a better vantage point, go to the observation decks of the Empire State Building, Rockefeller Center and One World Observatory.
Begin your winter escape at The Manhattan at Times Square. Check out our latest hotel deals and stay in the heart of Times Square.