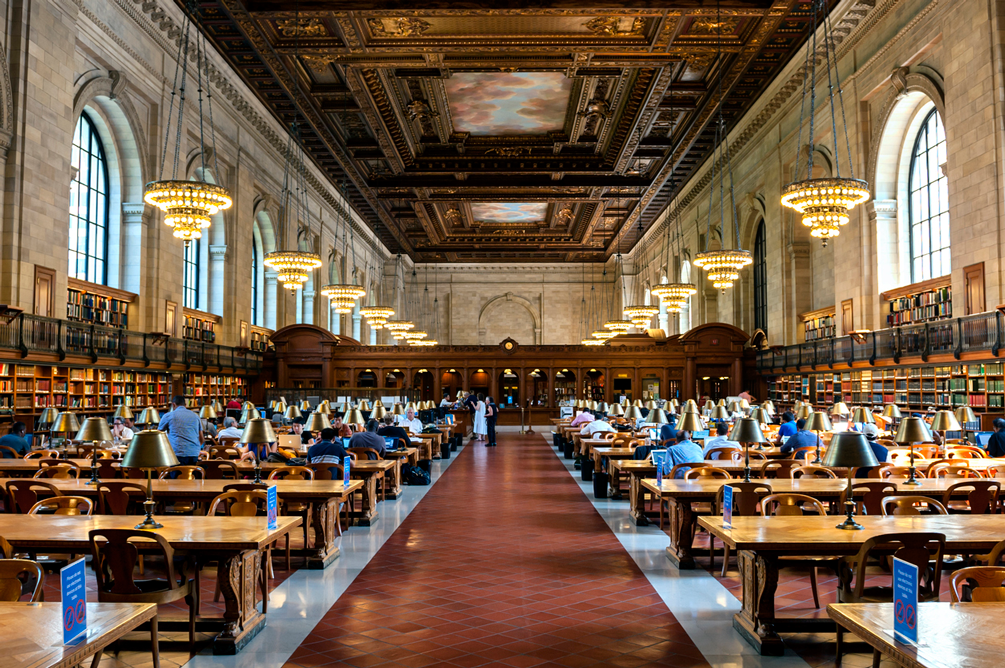 A hub for art and culture, New York isn't short of attractions for the intellectual inside us. If you're looking for inspiration or just an excuse to spend hours smelling old books, join us in a tour of the best spots in New York for book lovers.


Iconic Libraries and Bookstores
Start by taking a 20-minute walk from the Manhattan at Times Square to the New York Public Library (41st Street East). You've seen it in movies, TV series and across all social media platforms, but there's nothing quite like seeing the iconic Rose Reading Room for yourself.
Next stop is The Morgan Library and Museum (225 Madison Avenue at 36th Street), just a 10-minute walk from the New York Public Library. Although it has a $20 admission, hard-core bookworms will be delighted by Pierpont Morgan's library, expertly restored to its 1906 glory. The library organizes art exhibitions and concerts year round. Stop for lunch at the Morgan family's stunning dining room — now a restaurant serving dishes inspired by early 20th Century cuisine!
If seeing all those books that you can't take home made you feel deprived, you better go to Strand Bookstore (828 Broadway and 12th Street), just a few blocks from Union Square Park. This famous bookstore opened in 1927 and boasts 18 miles of books! Believe us when we say that you could spend an entire day there. Don't forget to check out the Events Calendar to find out about quiz days, book signings and launchings, and lively discussions.


Sites that Famous Writers Visited
Since you probably purchased something at Strand, what about heading to places where famous writers once mingled and crafted their stories? Hotel Chelsea (222 23rd Street West) was a hotel frequented by writers and artists. Although it's been closed to the public for years now, it continues to attract literary fans. After all, who wouldn't want to stand where Mark Twain, Jean-Paul Sartre, Simone de Beauvoir, Jack Kerouac and Arthur C. Clarke once stood?
Once you've done your share of dreaming about the great literary days of The Chelsea, the next step is to grab a pint. But not just any pint! At the White Horse Tavern (567 Hudson Street), you'll find great brews and a somewhat dingy bar that's buzzing with almost 200 years of history.
If a few pints weren't enough inspiration, your last stop should be the Nuyorican Poets Cafe (236 East 3rd Street). This cafe has been a forum for poets, artists, musicians and actors for almost half a century. What better way to finish your literary tour of New York than by watching real artists share their talent?
If you enjoyed this tour, follow the Manhattan at Times Square blog for more New York travel tips! And don't forget to consult our offers to get the best hotel deal in Manhattan.