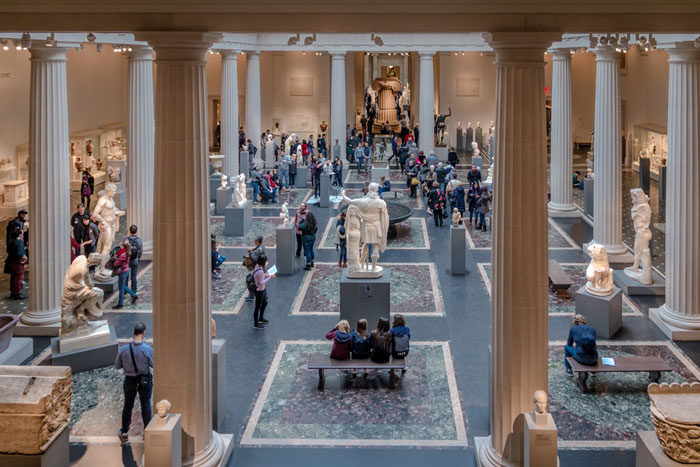 New York has a continuous stream of temporary museum exhibitions that contribute to city's rich cultural heritage. If you're heading to any of these top museums, be sure to pay a visit to these exhibitions.
Location: Central Park West & 79th Street, New York, NY 10024
Wonders await in Backyard Wilderness: Taking place just outside of everyone's backdoor, this exhibition gives an exquisitely detailed insight into who and what inhabits our yards.
Dive into the World of Unseen Oceans: With constantly updating technology, we can now see further underwater with details of unprecedented clarity.
Location: 11 W 53rd Street, New York, NY 10019
Collection Galleries 1880s–1950s: You can leisurely enjoy the art of this exhibition without having to wonder which piece came first. All the paintings are arranged chronologically, allowing you to compare how styles changed through the years.
The Value of Good Design: Have you ever wondered what good designs mean for household items? Now you can see how household designs have changed since the Cold War. You can even vote for your favorite!
Location: 1000 5th Avenue, New York, NY 10028
The Tale of Genji: Recently inaugurated, this exhibition showcases the artistic tradition of one of Japan's most celebrated works of literature. Often referred to as the world's first psychological novel, follow some of Genji's escapades.
Dutch Masterpieces at The MET: A long-standing exhibition that will teach you to fully appreciate some world-famous Dutch artists without having to go all the way to the Netherlands.
Location: Pier 86, W 46th Street and 12th Avenue, New York, NY 10036
A View from the Deep: The Submarine Growler and The Cold War: Another underwater option but from a very different perspective. You can now take a behind the scenes look at one of America's first nuclear submarines and how life was on board.
Personal Space: What better way to show the rest of us just how close space could be? Take a glimpse into the lives of 11 different astronauts through the personal items they decided to take with them.
Location: 180 Greenwich Street, New York, NY 10007
Skywalkers: A Portrait of the Mohawk Ironworker at the World Trade Center: Discover how North American skylines have changed and continue to change with the help of Mohawk Ironworkers.
Did you visit too many exhibitions without leaving enough time to go shopping? You can always pick a few NYC souvenirs from the museum gift store! If you'd rather some different, read about original and unique NYC souvenirs.