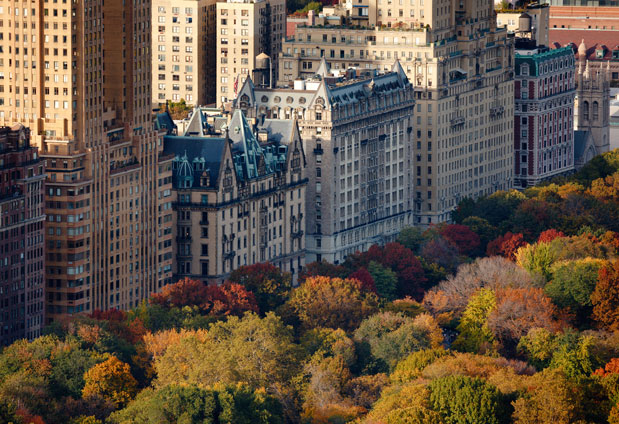 The Upper West Side is a charming New York neighborhood characterized by its many cultural attractions, quaint atmosphere and residential buildings. You may have seen it in major movies and TV Shows, but there's nothing better than spending a day seeing its many attractions for yourself.
Location
The UWS is flanked on one side by Central Park (Central Park West), and on the other by Riverside Park and Hudson River. It stretches from 59th Street to 110th Street and is split almost in half by Broadway. To get there from the Manhattan at Times Square, take the 1 train (red) at 50th St. station, or take the B (orange) or C (blue) trains, all heading Uptown.
What to Do
American Museum of Natural History
Across from Central Park is this monument to planet Earth and all its leaving creatures. Whether you want to travel through time to the Jurassic era or learn about space at the Hayden Planetarium, this top museum has fascinating collections.
Columbus Circle
The Shops at Columbus Circle and Grand Bazar NYC are top shopping destinations in UWS year round. However, if you're visiting around Christmas, you'll be treated to elegant and festive holiday markets.
Central Park and Riverside Park
You can access some of the most beautiful places in Central Park from the UWS. Riverside Park offers stunning views of Hudson River, but it's also a great place to run or bike in New York.
Architecture
The UWS is a historic district that has retained its majestic architecture. While only the rich and famous can afford to live there, it's still a picturesque place to go for a stroll. The Dakota, Eldorado, The San Remo, Majestic and Century apartments are the most famous art deco buildings in the area, but the brownstones and tree-lined streets are just as popular.
Top Music and Performing Arts Venues
Lincoln Center
Metropolitan Opera House
New York Philharmonic
New York City Ballet
Beacon Theatre
Where to Eat and Drink
A neighborhood as big as the UWS is bound to cater to every preference and budgets. Start your culinary tour by visiting Zabar's, a neighborhood store selling bagels, deli and meat, desserts, smoked fish and caviar, and much more. Make sure you try their cream cheese and salmon bagel. Carmine's at 91st Street and Serafina Upper West are Italian restaurants loved by everyone who walks through their doors. For some good ol' American comfort food, Good Enough to Eat is your way to go.
Discover more New York neighborhoods by following The Manhattan at Times Square blog.