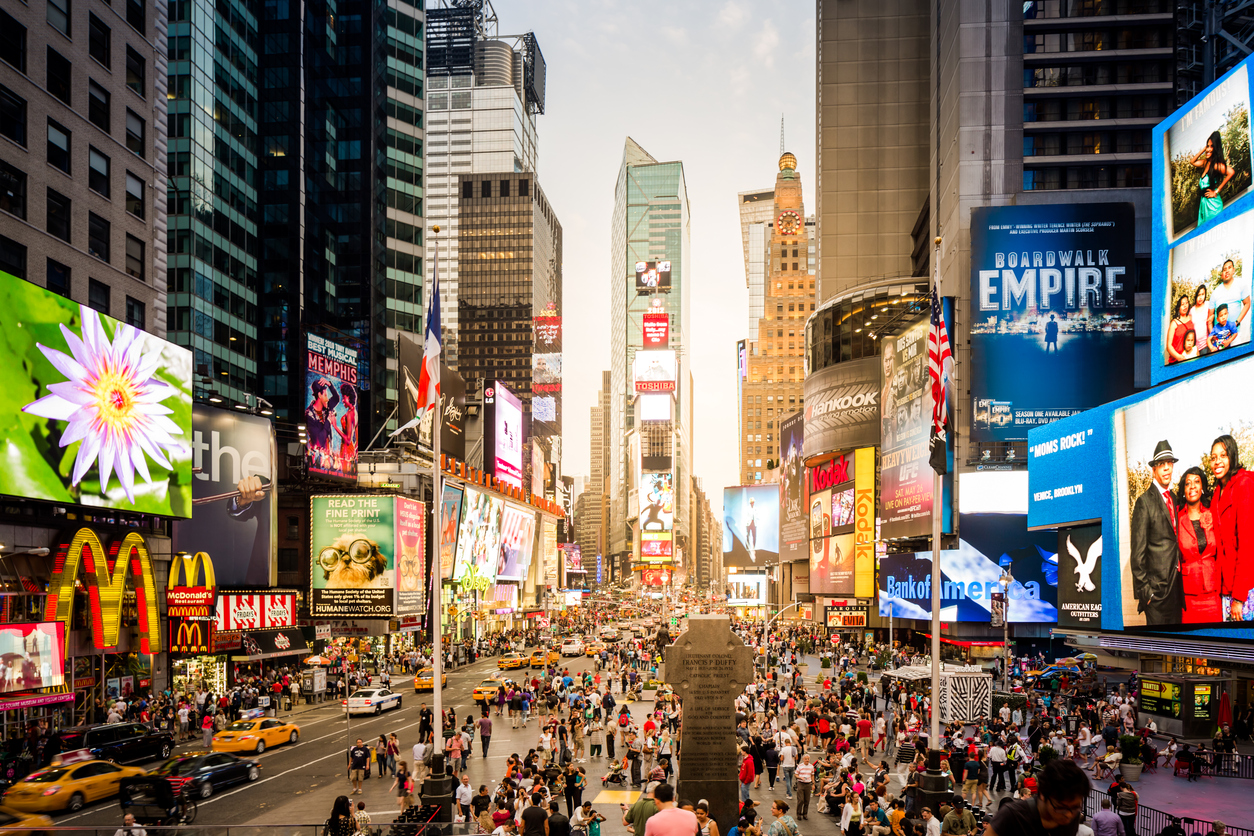 One of the questions we get asked at the front desk everyday is where to go shopping in New York. The list is long! We've talked before about where to shop for affordable high-quality clothing and we included our favorite outlets, flea markets and consignment stores.


If you're looking for a souvenir to take home with you but you're having a hard time deciding what to get, read our post on Essential NYC Souvenirs To Bring Back With You.


Those of you wanting to go on a shopping spree to huge stores of world-famous brands, you've come to the right place! The Manhattan at Times Square is located just a few minutes walk from all of the best stores. Wear a pair of comfortable shoes, get your credit card ready and go crazy!
Children
The very best store for children who love everything about the world of Disney is located less than 10 minutes from The Manhattan at Times Square. Be warned: they'll probably beg you to book a holiday to a Disney park next.
Disney Store
Location: 1540 Broadway
Candy and Chocolate
Since you're on holiday, forget about cavities and the diet. Instead, why not have candy and chocolate for breakfast, lunch and dinner? Well, maybe not, but you can buy enough sweet treats at these huge stores to last you a long time.
M&Ms World
Location: 1600 Broadway
Hershey's Chocolate World
Location: 705 Seventh Ave
Dylan's Candy Bar
Location: 1011 Third Ave at 60th St.
Clothing
Although there are dozens and dozens of clothing stores in Midtown, only some are superstores selling a huge selection of styles, sizes and accessories you won't easily find anywhere else. Here are the most popular ones.
Forever 21
Location: 1540 Broadway
H&M
Location: 1472 Broadway
The Adidas Store
Location: 565 Fifth Ave.
Electronics
If you need to stock up on accessories, electronics, phones, computers or cameras that are too expensive in your country or difficult to find, head to the stores below. Technology fans will feel as if they've died and gone to heaven.
Apple Store
Location: 767 Fifth Avenue
B&H Photo & Video
Location: 420 9th Avenue
If you're still looking for the perfect hotel near the best shopping in New York, top attractions and great restaurants, The Manhattan at Times Square is the answer. We are located right in the heart of Midtown. Check out our offers and book your New York holiday today!