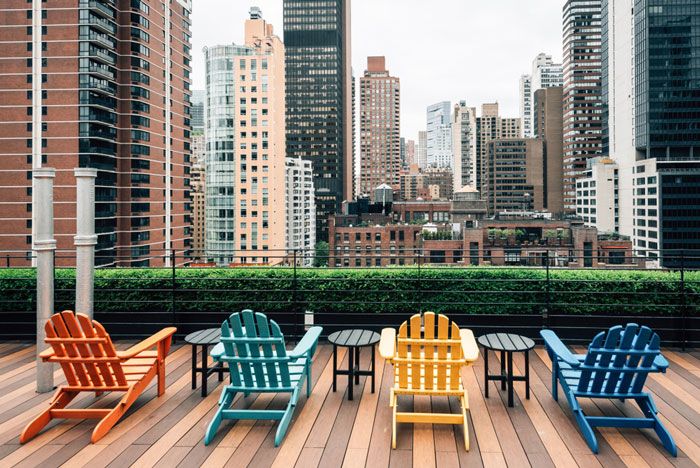 Has the New York heat gotten to you? The best way to beat the city's heat and humidity is by feeling a breeze in your face while drinking a refreshing cocktail. Scroll down to find out where you can have a drink with a view or where you can order a few frozen cocktails near Times Square.
Rooftop Bars and Terraces in NYC
Start by getting that fresh air we were talking about and seeing the city from above. After all, what's the point of being surrounded by skyscrapers if you don't get to climb one of them? Check out our blog for a list of rooftop bars and terraces in New York that will take your breath away. While not all of them are close to Times Square, all of them are located near top attractions that you'll probably be visiting anyway!
Our two favorite bars from that list are the St. Cloud Rooftop at The Knickerbocker and The Refinery Rooftop Bar. St. Cloud has spectacular views of Times Square from its Sky Pods, creative cocktails and a sophisticated atmosphere. For Empire State views, go to The Refinery to see the iconic skyscraper in all its glory while drinking at a bar with a retractable glass roof.
Where to Find Frozen Cocktails in Times Square
We have covered the best budget bars in Midtown, which includes The Rum House. This bar is popular for its jazzy vibe, live music and a wide variety of cocktails. But we have a couple more options for you!
Dallas BBQ
Location: 241 W 42nd Street, New York, NY 10036
Apart from getting some good ol' burgers, wings and ribs, people love Dallas BBQ's famous frozen drinks. Choose from Piña Coladas, Margaritas, Daiquiris or Tsunamis with the option of adding a bit of champagne or moscato. Don't be shy and get a Texas size drink!
Havana Central
Location: 151 West 46th Street, New York, NY 10036
Get you dose of Latin music, food and drinks at Havana Central. Have a Mojito with Matusalem rum, one of their ice-cold sangrias or a Cuban Milkshake with over 10 tropical flavors from which to choose.
If you want more information about how to stay awake in the city that never sleeps, follow our blog for tips on the best and affordable nightlife in Midtown. Don't forget to take a look at our New York hotel deals. Book a comfortable room in the heart of Times Square and be in the middle of the action.