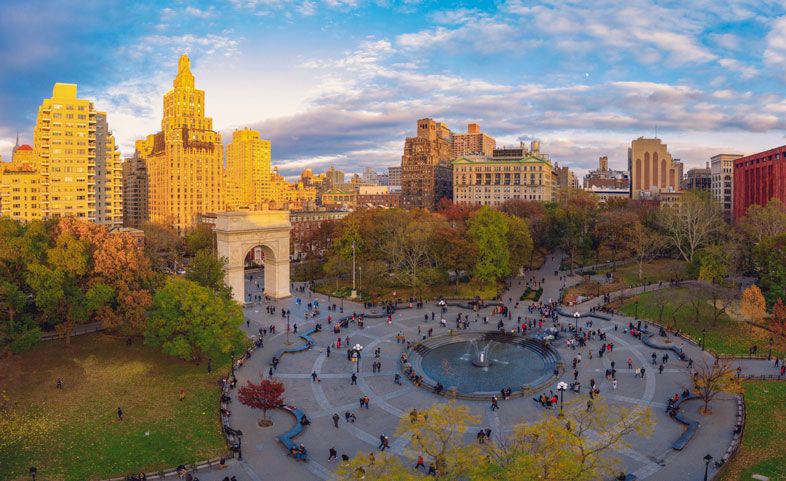 Arguably one of the most romantic areas of Manhattan, Greenwich Village is a must see on your trip to The Big Apple. It's been home to some great artists from Edgar Allen Poe to Jack Kerouac. At its heart is the Washington Square Park, which you've probably seen in "When Harry Met Sally" or, more recently, as a sanctum to Doctor Strange in "Avengers: Infinity War."
Location
Bordered on the South by Houston street and on the North by 14th street. Broadway provides its Eastern border and the Hudson River its Western perimeter.
What to Do
Greenwich Village or just "The Village" hosts an incredible history of LGBTQIA+, art, music, social and literary movements waiting to be discovered. But just walking past its brownstones in tree-lined streets on your way to a cozy eatery is
Pride
We've written a guide to pride in NYC in a previous post. Greenwich Village has long been a key player with the LGBTQIA+ community. The Stonewall Inn, the location of the Stonewall Riots that are widely considered to have played a key part in the gay liberation movement, is located here along with other important LGBTQIA+ historic sites. Take yourself on a self-guided tour following their interactive map.
Literary Tours
Artists can be found in abundance in The Village, which explains the many literary tours that can be found here. No visit would be complete without taking at least one of the following:
Greenwich Village Literary Pub Crawl
Edgar Allan Poe Spook
Edgar Allan Poe in Greenwich Village: A Literary Walking Tour
The Original Greenwich Village: Food and Culture Walking Tour
With such a vivid history comes some unique foods and cultures. Find out exactly what The Village has to offer with three hours of tastings along with the ins and outs of everything you're eating and how it ended up there.
Washington Square Park
No visit to Greenwich Village would be complete without getting lost in Washington Square Park, a famous meeting spot. It plays a part in more movies than you can count. Read our posts on popular movies filmed in NYC and the most famous movie locations in New York to track down what films were shot where.
Where to Eat and Drink
What better way to celebrate your trip to one of the most romantic areas of NYC than with dinner or drinks in a restaurant rated as the fifth most romantic restaurant in the world? Established in 1973, One If By Land, Two If By Sea is said to have witnessed more engagements than anywhere else in Manhattan.
If this seems too formal for you, perhaps a stop at John's Pizzeria is for you. They have been serving coal fired pizzas since 1929. Then, on your way back to The Manhattan at Times Square, after getting lost in The Village, you might stop for some cheesy delicacies from Murray's Cheese. For world famous desert, drop by Pasticceria Rocco for some home-made cannoli.
Discover more New York neighborhoods by following The Manhattan at Times Square blog.