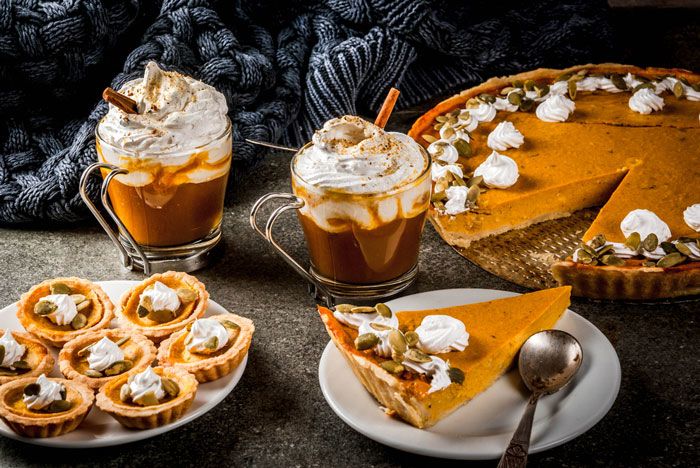 Fall is the harvest season. The time of year characterized for its rich flavors. Traveling to New York between September and November will be a chance to taste the best seasonal drinks and desserts.
Warm Spiced Coffee
Having a pumpkin spice drink is a must. This quintessential autumn drink was made popular by Starbucks. Order a Pumpkin Spice or Pumpkin Spice Crème if you don't drink coffee. When you're craving something refreshing, get a Pumpkin Cream Cold Brew. To try something different, what about a Caramel Apple Spice?
Fall Cocktails at a Cozy Bar
As the weather turns, cocktail bars begin changing things up a bit. Summer's frozen cocktails are replaced with fragrant drinks with autumn ingredients. You might find woody and nutty spirits paired with pumpkin, maple, cinnamon, nutmeg or cardamom. The best bars to visit are those which already are cozy and inviting. Check out our recommendations for the coziest bars in NYC, close to Times Square.
Rich Apple Cider
If you're unfamiliar with cider, understand that cider is like wine. Fine cider shouldn't taste like apple! The many cider styles include: Dry and Tannic, Minerally and austere, Champagne style bubbly, Fruity and Dessert Cider. Try them all at Cider Week New York. This is an annual event that showcases the state's top cider makers: most from Upstate New York and a handful from New England.
Pumpkin Spice Desserts
Fall isn't just about drinks. Each year, bakeries all over the city prepare special desserts that feature the season's signature flavors. Treat yourself to a Pumpkin or Double Stuffed with Orange Oreo cupcake from Sprinkles. Have you ever tried a traditional Pumpkin Pie? There's no better place than Little Pie Company. Explore more of New York's best desserts in our blog.
Trying New York's fall flavors is just one part of the equation. Make the most of this colorful time of year by seeing fall foliage in Central Park or having some unforgettable fall experiences. If you haven't booked your Times Square room yet, consult The Manhattan at Times Square special offers.