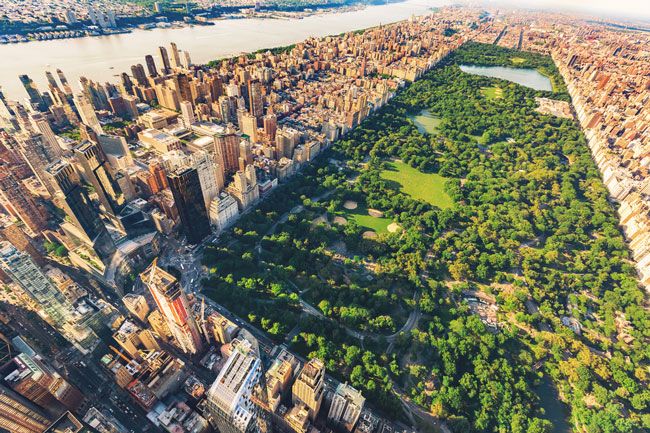 Central Park is one of the most popular sights in New York. If this is your first time navigating this massive urban oasis, take a look at our quick guide to Central Park. Those of you who want to go deeper and explore as much as possible of this legendary NYC attraction, continue reading.
Discover New York's Most Famous Movie Locations
Over the years, Central Park has been the backdrop, and sometimes even the character, of countless films. We've talked about popular movie locations in New York that draw visitors every year. You can walk around the park on your own or take guided tours. If you need inspiration, read our blog post on Popular Movies Filmed in New York City.
Let the Experts Show You Around
Central Park Conservancy volunteers organize daily and seasonal tours, some free and some ticketed. You can choose from tours focusing on highlights and famous sights, or tours that take you to lesser known areas, such as The North Woods. Check out our blog post on Best Walking Tours in New York for more details.
Have a Picnic
Spring and summer are the perfect seasons to bask in the sun at Central Park's vast green spaces. Forget about going to a restaurant and take your meal outside. The Manhattan at Times Square is located near several grocery stores where you can put together your own picnic. Afterwards, all you have to do is pick your favorite spot. Take a look at our suggestions for best places for a picnic in Central Park.
Take Iconic Photos
All the above experiences will result in unforgettable moments. Make sure that you treasure them for years to come by knowing where to go to photograph the most iconic places in Central Park. The great news is that even if you come to New York in the colder months, you're guaranteed beautiful shots. In fact, some may even argue that Central Park is at its most beautiful then! Read our blog posts on Best Places to Photograph NYC in the Snow and our Guide to Central Park in the Fall.
Run and Bike around Central Park
Calling all fitness buffs! Central Park is the preferred gym of many New Yorkers. Run alongside the locals in one of the many running routes in Central Park. Don't forget that if you visit in fall, you'll have a chance to see the New York City Marathon. If you would rather rent a bike and explore it on two wheels, our guide to biking in NYC has everything you need.
Now that your Central Park bucket list is taken care of, it's time to book your Times Square hotel room. Consult The Manhattan at Times Square latest hotel deals!